File Recovery - How to Recover Deleted Files
Have you ever suffered from data loss? When we encounter data loss for whatever reasons, the first idea occurred to our mind may be to remake or re-collect the lost materials. But it is impossible to remake those unique and not replicable photos, videos or those important or confidential documents. Under these occasions, you'd better turn to professional File Restore software for help.
Professional File Recovery software can help you recover your lost files more efficiently and safely. You will find Daossoft Data Restore software meet your requirements perfectly. It can recover lost/deleted/formatted photos, music, videos or documents from your computer, mobile phone, USB flash drive, memory card, MP3/MP4 players or camera or other removable storage devices in Windows 7/vista/XP/2000/2003/2008 system. It has powerful function, easy to cooperate with intuitive guides and quick to recover with a few clicks only. The following part will guide you how to use it to recover your lost files.
---
Daossoft Data Restore to Recover Deleted Files
Before you start to recover your lost data, you should make two preparations. One is that you should download Daossoft Data Restore software and install it in a Windows first. And the other is that if your lost data are in a removable storage device, you connect it to the computer either with a card reader device or digital cable. When all these done, you start your recovery follow the guide below.
Step 1: Launch Daossoft Data Restore software and you see four recovery modes, choose an appropriate one according to the reason you lost your data. And then click "Next" to go on. "Deleted Recovery" mode is most frequently adopted, here choose "Deleted Recovery", if it doesn't work and fail to find your lost data, please try "Raw File Recovery" later again.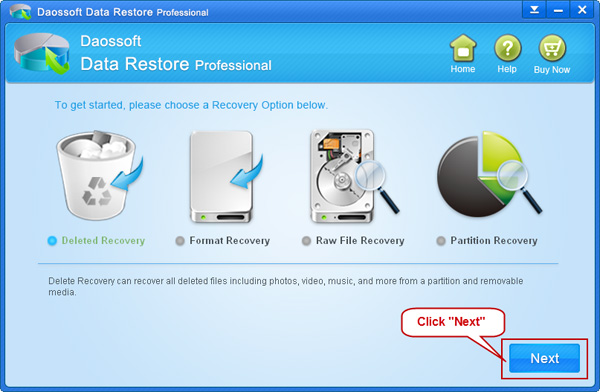 Step 2: Select the right partition or drive your lost files are in. Click "Scan" button to scan it.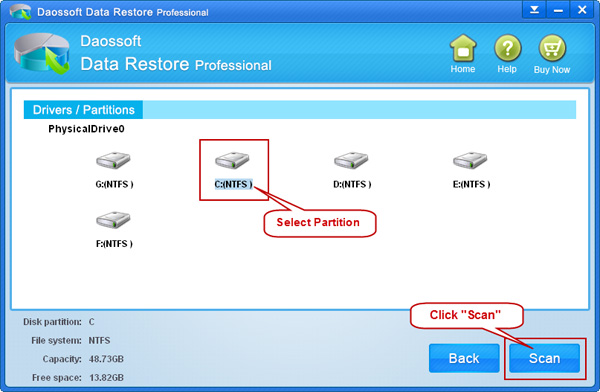 Step 3: Preview and find out the files you want to recover, and then click "Recover" button to recover. But only files in picture forms can be previewed, thus you can try to recognize files cannot be previewed via their file size, file date or file name suffix. In addition, after recovery, please remember to save the recovered files to another partition or drive other than the original one. Or else what you have done would be in vain.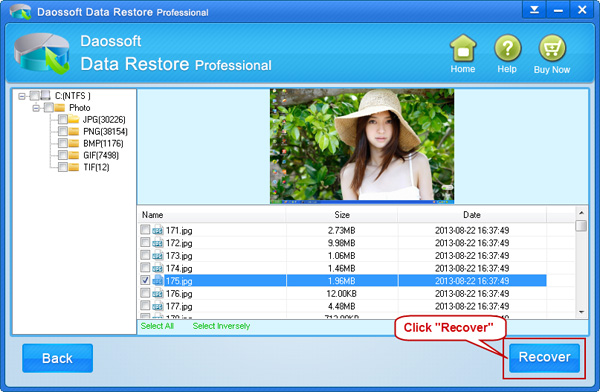 Related Articles: