Pen Drive Rescuer - How to Recover Deleted Files from Pen Drive
This Pen Drive Data Rescuer guide aims to give instructions to users how to recover deleted files from USB pen drive effectively and efficiently with Card Data Rescuer software.
Pen drive is a kind of USB drive. It is easy to operate and convenient to carry. Thus it gains large popularities. The more familiar users are to the use of pen drive, the less cautious they become. Thus it is not strange for us to lose our data occasionally. We may lose our data because of accidental deletion, formatting, virus attack or inappropriate operations during our use or other reasons.
When we lose our data in USB pen drive, we should first of all stop writing new data into it in case of the lost data being overwritten and lost thoroughly and then we should find an effective and reliable way to recover our deleted files. Daossoft Card Data Rescuer software is professional and reliable data restore software which can recover deleted files from pen drive quickly and safely. The following part is the specific steps.
---
Steps to Recover Deleted Files from Pen Drive
Step 1: Download Daossoft Card Data Rescuer software and get it installed on your computer.
Step 2: Insert your USB pen drive to your computer.
Step 3: Start the Daossoft Card Data Rescuer software and it will provide you four options to choose from, you can choose either "Photo/Graphic", "Audio/MP3" , "Video" or "All File Types",according to the file type your lost files are. Then click "Next" to go on your recovery.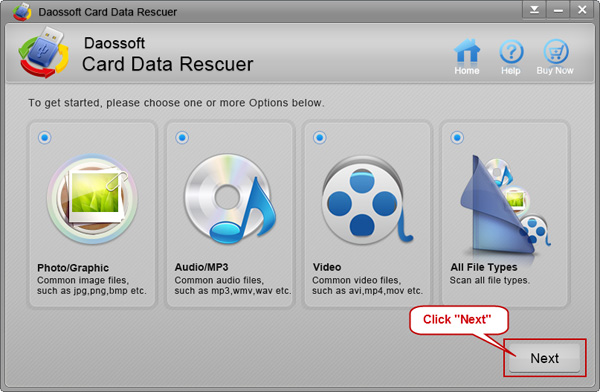 Step 4: Select the corresponding partition or drive letter your USB pen drive shows in "My Computer" and then click "Scan" to scan that partition to find out all the deleted files first.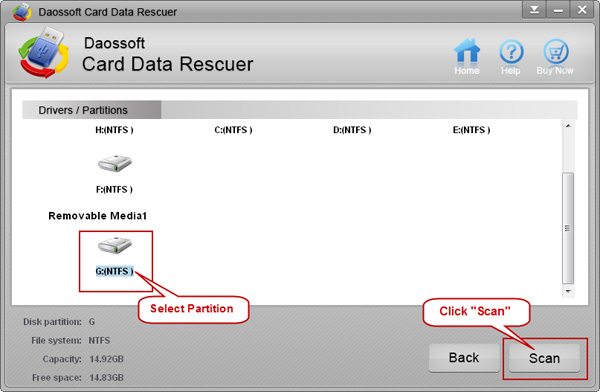 Step 5: After all the deleted files are listed, you can preview your deleted pictures one by one to find the pictures you want to recover and make them selected and then click "Recover" button to recover them. Files not in picture type cannot be previewed, you can recognize them by their file date, file size or file name suffix. After recovery, save the recovered files to another partition according to the prompts.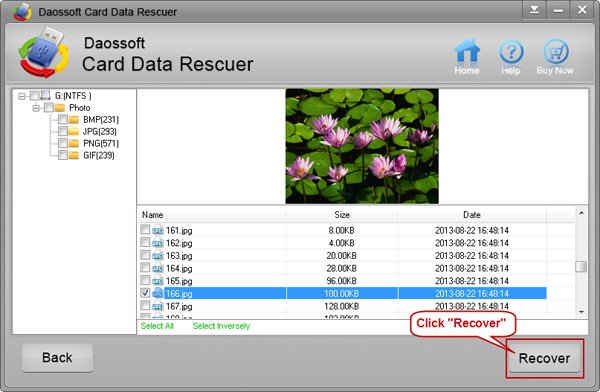 Related Articles: