Recover Deleted Files from Recycle Bin
We delete those files we don't need presently into recycle bin, but chances are that we may found that those deleted files are still useful afterwards. Want to get them back again? Easy! Just recover deleted files from your recycle bin.
From our daily computer operations, it is not difficult to conclude that deleting files is one of our most frequent operations. We tend to delete files in different formats we don't need presently almost every day. But we will also perform the restore operation when we found the deleted files still useful to us later. It is easy and familiar for everyone to restore deleted files still in recycle bin. But how about those you delete again from your recycle bin and you cannot restore them from recycle bin directly? Now you can refer to this article to restore your deleted files according to your own circumstances.
---
Step by Step Guide to Recover Deleted Files from Recycle Bin
Circumstance 1: the deleted files still can be found in your recycle bin
At this circumstance, the operation is quite easy and familiar like the followings:
Step 1: Open your recycle bin, and find the deleted file by its file name
Step 2: Right click on it and choose the "Restore" option, and then your deleted files are restored to where it was.
Circumstance 2: the deleted files cannot be found in your recycle bin
If you have deleted that file again from your recycle bin or emptied your recycle bin, then you cannot restore your deleted file from recycle bin directly as circumstance 1 does. At this circumstance, you need the assistance of Data Restore software to help you recover. Daossoft Data Restore is professional, effective and user-friendly file recovery software which is worth your try.

Step 1: first of all, download Daossoft Data Restore software and install it in your computer. It suits windows 7/vista/XP/2000/2003/2008.

Step 2: Start Daossoft Data Restore software, when its main interface appears like the following, choose Raw File Recovery mode, and then click "Next" button to go on.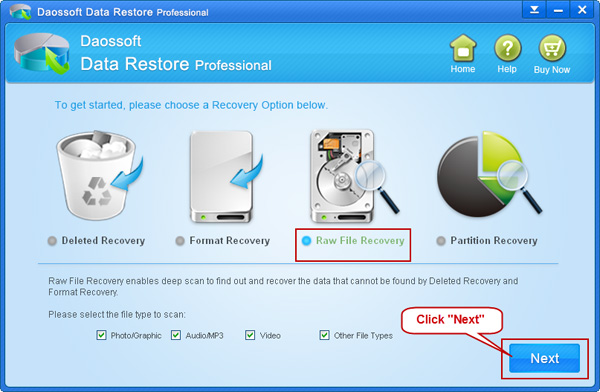 Step 3: Select the corresponding partition your deleted files are originally in and then click "Scan" button to go on.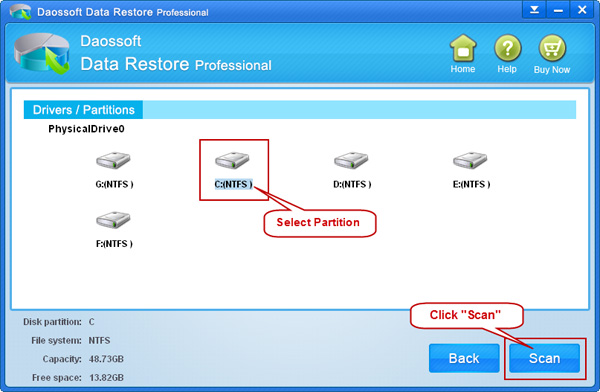 Step 4: Preview all the scanned files and select the files you need and then click "Recover" button to recover them. Attention not to save the recovered files to where they were previously.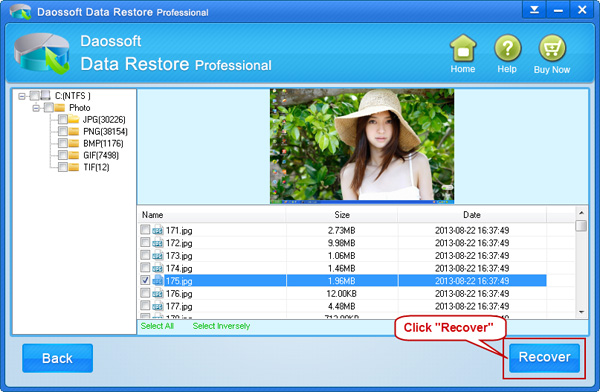 Now you can instantly recover your deleted files from recycle bin.