How to Recover Deleted Files from USB Flash Drive
USB, short for Universal Serial Bus, has become an indispensible part in modern life. It is widely used to connect computer operating system with external devices such as mouse, keyboard, printer, scanner, smartphone, digital camera and so on. Besides USB flash drive is more widely used in our daily life. We use it with various purposes for its small size, lightweight, high-speed, and portability. It generally can be used to store, backup, share and exchange our various useful materials conveniently.
When its operation becomes too familiar and easy to us, users start to become not that cautious when using it. This readily leads to the occurrence of data loss in USB flash drive. Because of the limited capability of our USB flash drive, I assert that the data in our USB must be mostly important, useful or urgent to us. So what to do when data in your USB lost? That's really worrying and freaking! Is there any way to recover lost data from USB as soon as possible with easy operations? Definitely! You got it! That is Daossoft Card Data Rescuer!
---
Step by Step Guide on How to Recover Lost Data from USB Flash Drive
Daossoft Card Data Rescuer is anxious to help our users to solve kinds of data loss caused by various reasons. And Daossoft Card Data Rescuer is professional USB Data Recovery aiming at recovering lost data from USB flash drive due to accidental deletion, mistakenly format, virus attack or USB failure and so on. It has only several steps with clear and intuitive instructions to help you save time to recover your lost data from USB soon. Now let's check out how fast it is!
Step 1: Download Daossoft Card Data Rescuer software and install it in your computer. It can be installed in windows 7/vista/XP/2000/2003/2008.
Step 2: Connect your USB flash drive to the computer and start Daossoft Card Data Rescuer.
Step 3: After start the rescuer software, four options is provided, and you choose the corresponding one according to the file type you want to recover. Then click "Next" button to go on.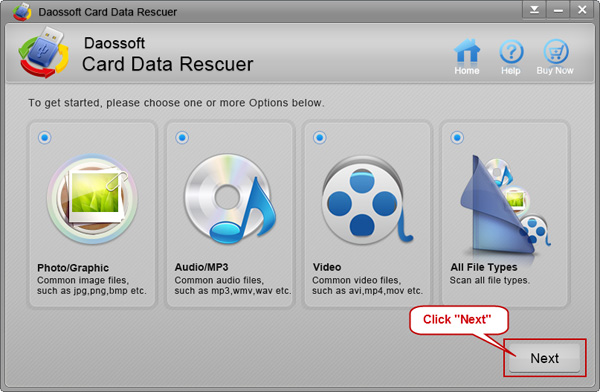 Step 4: Select the corresponding drive letter your USB flash drive shows, and then click "Scan" button to scan.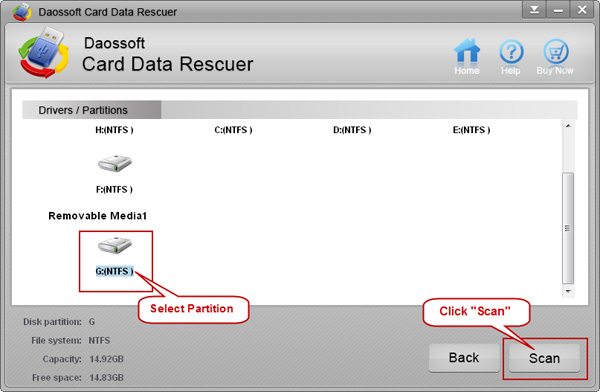 Step 5: Preview and select the right files you want to recover and then click "Recover" button to recover. Save the recovered files to another new partition or drive rather than your USB flash drive again.