How to Recover Permanently Deleted Files
Many people may feel at sea and will do nothing when they lost their important files in their hard drive, memory cards or any other storage devices. But you are the lucky one having seen this article because it will tell you that it is possible to recover your lost files and how to recover your lost files quickly and easily.
With the popularity and advancement of high technology, it is can be said that paper writing has almost been replaced by restoring information with electronic products such as personal computer, tablet PC, smart phone and other portable audio/video players and so on. We have to admit that they make our life and work more convenient, but they sometimes may go to the opposite direction when we accidentally deleted some important files and found that we can't restore them directly. When these accidents happen on you, you can be wise to choose the Daossoft Data Restore software to help recover lost important files as soon as possible. But do keep one thing in mind: do not write new data into your storage devices in case of being overwritten.
The Possibility of Recovering Deleted Files
You may be curious why permanently deleted files can be recovered again. When you delete a file by "Shift + Del" or emptied files in your recycle bin, the operating system only delete its directory flags from file table but the computer can only access to files on file table, thus in fact the original data is still recorded in certain sector in your storage devices.  While professional data restore software can scan every sector on the disk and find out your deleted files unless you have written some new data into your disk.
---
Step by Step Guide to Recover Deleted Files
A professional and effective File Restore Software helps recover lost files more quickly and easily. Daossoft Data Restore is a type of software like that. It can help recover lost files from various storage devices in Windows 7/Vista/XP/2000/2003/2008 systems. The whole operation is easy like the followings.
Step 1: Download Daossoft Data Restore software and install it in a Windows computer. It suits Windows 7/vista/XP/2000/2003/2008.
Step 2: If your storage device is removable, insert it to computer or connect it to the computer with digital cable.
Step 3: Start Daossoft Data Restore software, choose Raw File Recovery mode and continue.
Step 4: Select the partition or drive where the files you would like to recover are and then click the "Scan" button to find out all the lost files.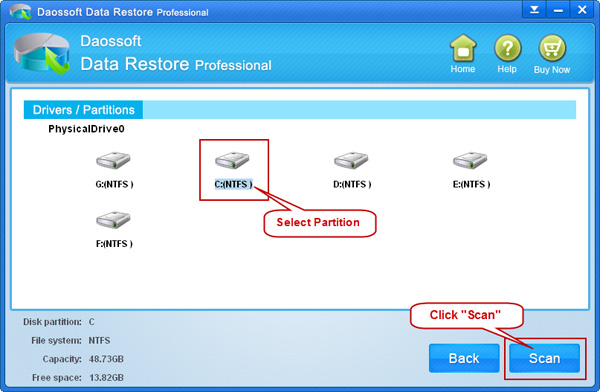 Step 5: Preview and select the files you want to recover and then click the "Recover" button to recover them. Tips: only pictures (png, jpg, jpeg, bmp, gif) can be previewed. Note: please DO NOT save the recovered files to the same partition as lost files again.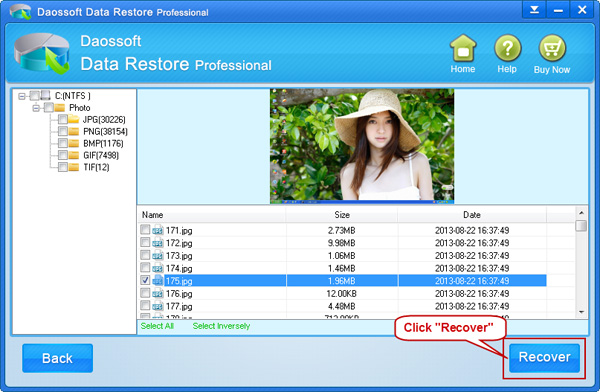 Attention: The name of deleted files may have been changed, so it may be difficult for you to recognize the files you want by file name. But you can pick out the files you want by the following attributes if cannot be previewed:
the size of the file
The date of the file
The file name suffix