Computer Recovery - How to Recover Deleted Files from Computer
Undoubtedly computer becomes not strange and curious to people nowadays, from a little child to an elder uncle or aunty may play with computer every day. Admittedly we play quite a lot computer, but we are not computer experts after all. When something goes wrong with it, we become panic.
Have you ever gone through such an awkward situation that you deleted some important and urgent data in your computer and feel helpless to find them back? I bet you have. Then how do you deal with it? I guess you either consult someone else or you hurry to rewrite or recollect your lost data again. In fact you needn't trouble to do that. Large amounts of data in our computer are stored in hard drive. And Daossoft Data Restore software can help you recover your lost/deleted/formatted data from computer easily and quickly. It needn't any computer skill to operate. You only need to follow the instructions step by step to recover lost data from hard drive of your computer.
Step by Step Guide on How to Recover Lost Data from Hard Drive
Step 1: Download Daossoft Data Restore and install it on a windows computer.
Step 2: Connect the failed hard drive to the computer with USB drive adapter.
Step 3: Start Daossoft Data Restore software and select the "Raw File Recovery". Then click "Next" button to go on.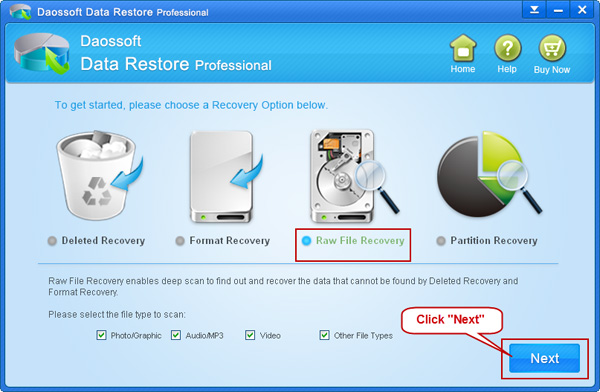 Step 4: Select the drive letter your hard drive shows and then click "Scan" button to search all the lost files on your hard drive.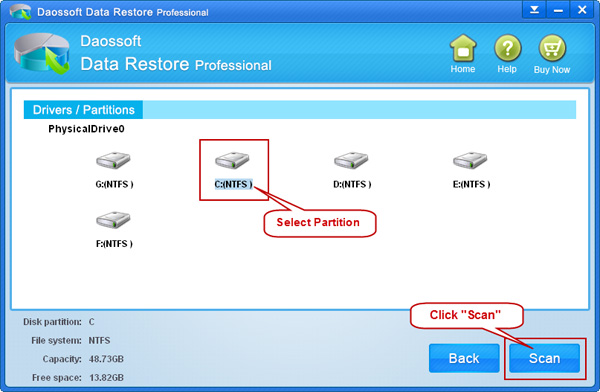 Step 5: Lastly preview to select the files you want to recover and then click "Recover" button to recover and then save all the recovered data to another partition or drive. Remember not to save them to the original hard drive.