How to Recover Lost Data from Memory Stick
Memory stick is a removable flash memory card format, which was developed by Sony Company. It is a large family and has quite abundant serials. Memory stick generally used for Sony's digital products like digital camera, cellphones, DV, digital Walkman, VAIO personal computer, IC recorder and so on. With its so wide applications and the popularity of Sony's digital products, I bet you must have used Sony products directly or indirectly. In the process of using, you may become panic for your accidental deletion or mistaken formatting, especially if you have borrowed other's camera for use. You will feel really sorry for what you have done. But you can also take the initiative to save the situation. Because you can recover the lost data from memory stick with Daossoft Card Data Rescuer neatly and quickly.
Daossoft Card Data Rescuer is professional and effective software with an aim to serve the majority of users to recover lost/deleted/formatted/corrupted data from various removable storage devices. For memory stick is a member of memory card, so this software can definitely recover lost data from memory stick effectively unless you input some new data to your memory stick and make your lost data overwritten.
---
Step by Step Guide on How to Recover Data from Memory Stick
Step 1: Download Daossoft Card Data Rescuer software and install it on your computer.
Step 2: Connect your memory stick to your computer either with card reader device or a digital cable.

Step 3: Start Daossoft Card Data Rescuer software. When its main interface shows, you have four options to choose from. Select the corresponding file type according to the file you want to recover. And then click "Next" to go on.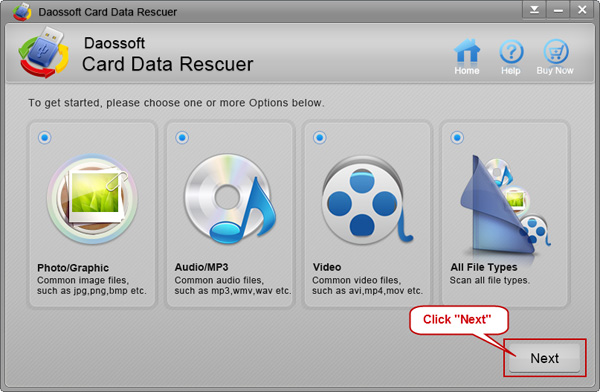 Step 4: Select the right partition or drive letter your memory stick displays and then click "Scan" button to scan it.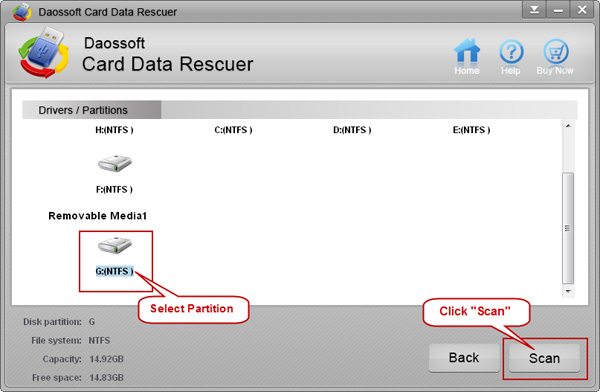 Step 5: Preview the listed files to pick out you wanted files and then click "Recover" button to recover them to another partition or drive instead of your memory stick again. If the file cannot be previewed, then you can recognize the file via its file size, file date or file name suffix.