How to Recover Deleted Files from Memory Card
This article is written with a view to teach those who suffer from data loss but have no idea what to do to recover deleted files (data) from memory card with Card Data Rescuer software.
Memory card is not strange to us all. We use memory cards in various digital products, mainly including our mobile phone, digital camera, and portable computer, MP3/MP4 to store some important and temporary data. The most common memory cards we used are micro SD, mini SD, micro SDHC, CF, MMC etc. Some most well-known memory card brands are Kingston, SanDisk, OLYMPUS, SONY, Samsung, and ADATA and so on. In the process of using we may encounter some unpleasant occasions like the followings:
Some Potential Situations We May Encounter
We may mistakenly delete our data in memory card when we are viewing or picking our photos in your phone or your camera.
We may lost our data when we plan to transfer our data from our memory card to our computer because of abrupt interrupt, and the content being transferred miss.
Or it shows us hints like "Memory Card Error" or "Card Malfunction" on our phone or cameras.
Or when we connect our memory card to computer, it prompts you whether to format your memory card, we may take it for granted and mistakenly format our memory card.
There are many more other unexpected and potential situations we may encounter, when these accidents happen on us, never feel panic or depressing. Daossoft Card Data Rescuercan help you recover your lost files completely as long as you follow the following guide.
---
Guide on How to Recover Deleted Files from Memory Card
Only three steps can help you recover you deleted files easily and quickly with our Daossoft Card Data Rescuer software after your preparation for the recovery. First of all, get yourself a Daossoft Card Data Rescuer and install it on your computer. And then you should insert or connect your memory card to your computer with a card reader device or a digital cable. When these two have already done, then we begin our recovery.
Step 1: Launch the card data rescuer software and then choose the file type or types from the four options in the main interface. After your choice, click "Next" to go on your recovery.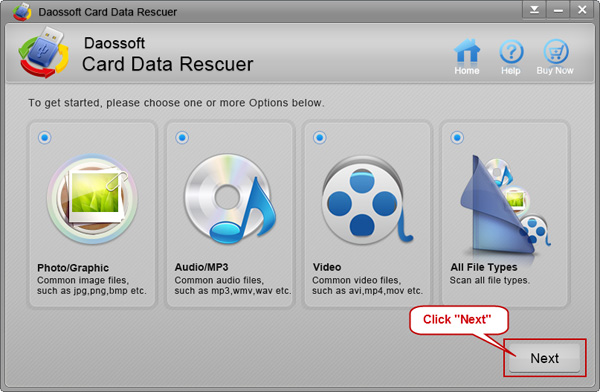 Step 2: when the interface skips to the following one, choose the partition or drive your deleted files originally are and click "Scan" button to scan it to retrieve all the deleted files in it.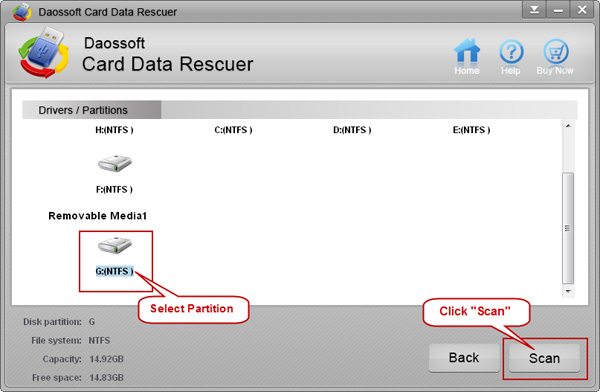 Step 3: After the scan, it will list all the deleted files in a row. You preview first and find out the files you want to recover and make them selected. Then click "Recover" button to recover. But keep one thing in mind not to save the recovered files to your memory card any longer in case of what you have done in vain.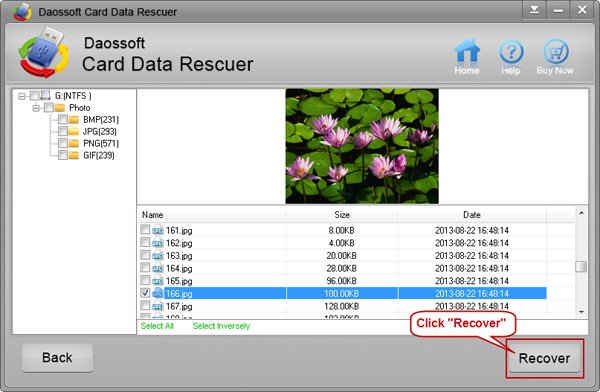 Related Articles: