How to Recover Deleted Files on PC
Nowadays, almost everyone uses or possesses a computer. In the process of computer using, we are bound to encounter more or less problems. When we come across problems and we cannot tackle them ourselves, we turn to computer technician for help.
Ever deleted files from your personal computer? Definitely! Have deleted files from your personal computer accidently? Of course we are. But generally we can restore them from recycle bin by ourselves directly. Then how about important files emptied from recycle bin and you cannot find them anywhere in your computer? When this happens, some may ask for others for help or some may simply let them gone. But now you needn't feel regretful for giving up them neither find someone else to help, you can find them back yourself easily only follow the instructions of how to use Daossoft Data Restore software to recover deleted files on your PC.
Daossoft Data Restore software is professional and effective software designed with an intention to help the majority of computer users to recover lost files caused by accidental deletion by "Shift + Del", empting recycle bin with still important files in, formatting your hard drive, hard drive error or damage and any other unknown reasons. Now follow me to see how it achieves.
---
Step by Step Guide on How to Recover Deleted Files on PC
Step 1: First of all, download and install Daossoft Data Restore in your PC. It supports operating system like windows 98/win7/vista/XP/2000/2003/2008.

Step 2: Start Daossoft Data Restore software. Select "Deleted Recovery" when its main interface shows. You can also try "Raw File Recovery" to perform a deep scanning later if the "Deleted Recovery" cannot find the files you want to recover. And then click "Next" to go on your recovery.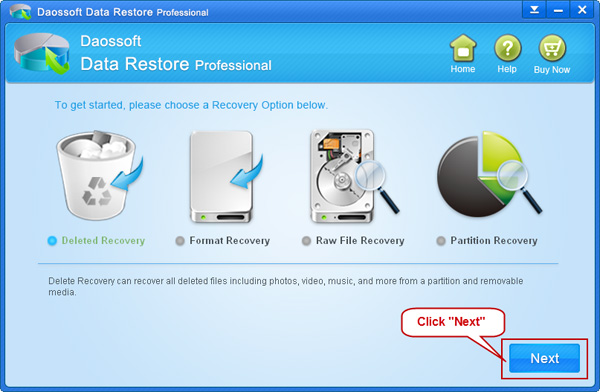 Step 3: Select the partition or drive letter where your deleted files are on and click "Scan" button to scan.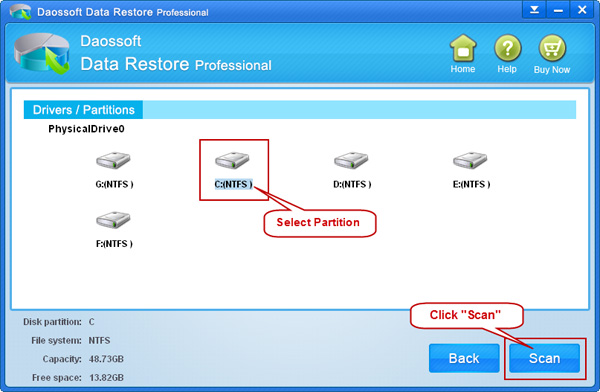 Step 4: Preview to select the files you want to recover and click "Recover" button to recover and save all the recovered files to another partition rather the original partition.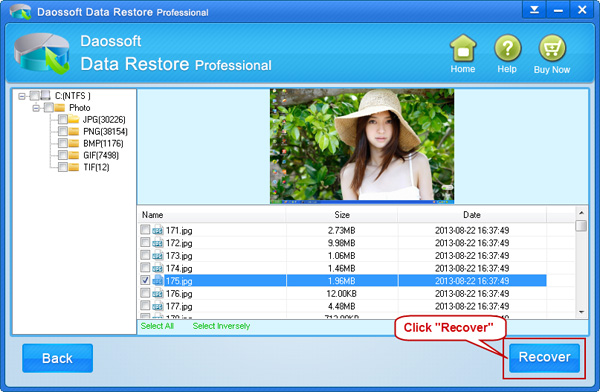 Tips: files not in picture format cannot be previewed, so if you cannot pick out files you need or not, please try to recognize the file by file size, file date or file name suffix.