How to Recover Deleted Photos from Camera
Do you like traveling? Do you like posing elegant postures at different scenic spots? Do you have the habit to record dribs and drabs happened in your life? Then you surely have a camera! Have unintentionally deleted one of your most favorite photos? What a freaking thing! But trust me this article can save you from feeling lost because it tells how you can recover your deleted photos from your camera.
At the mention of camera, people who love life become exciting. Everyone desires to own a camera to record what they do and where they go. Mention of camera, we associate with photos, and reviewing our photos reminds us of our happy or sad times. So when we accidentally deleted precious photos from our camera, we rack our brains to find ways to restore them. And now you needn't! Daossoft Photo Data Rescuer software will do you a favor to recover your deleted photos simply and easily. This software work well for all current digital camera brands like Canon, Nikon, Sony, Olympus, Minolta, Fuji, Kodak, etc. and the memory cards used by them. Now let's check out how it works.
---
Step by Step Guide to Recover Deleted Photos from Camera
Step 1: download Daossoft Photo Data Rescuer software and install it in your computer. It can be installed in windows 7/vista/XP/2000/2003/2008.

Step 2: connect your camera to the computer with digital cable or take out the memory card in your camera into a Memory Card Reader Device, and then connect it to the computer.
Step 3: Start the Daossoft Photos Data Rescuer software, and you will found the "Photo/Graphic" option has already been chosen, then click "Next" button to go on the recovery.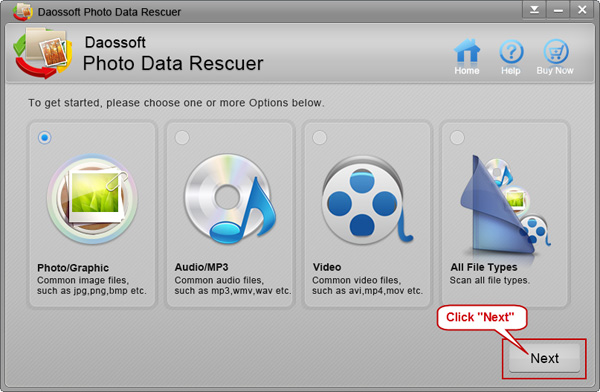 Step 4: Select the corresponding partition or drive letter your camera or the memory card reader device of its memory card shows, and then click "Scan" button to scan out all the deleted photos from your camera.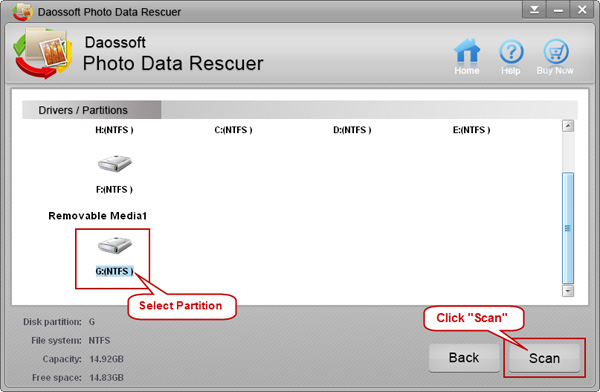 Step 5: Preview all the scanned photos and tick all the photos you want to recover, then click "Recover" button to recover. Attention not to save them to the memory card of your camera again.