How to Recover Deleted Files in Windows 8
With the frequent use of computers, we may encounter kinds of problems now and then despite of its operating system. Accidentally deleted important files in Windows 8 and have no idea how to restore them soon? Then you can spare several minutes to scan this article to learn how to recover lost files in Windows 8.
The development of Win8 is aiming at making people's daily computer operation easier and more rapid and providing a more efficient and convenient working atmosphere for computer users. Even thus, it is inevitable that we may suffer some inconveniences it brings to us like we may delete files unintentionally and can't get them back directly. On this condition, we need the assistance of Data Restore software to recover lost files from various storage devices in Windows 8, such as hard drive, removable hard disk, memory cards, USB Flash Drives and so on.
The Most Efficient and Convenient Way to Restore Deleted Files in Windows 8
When you delete a file by "Shift + Del" or emptied files in your recycle bin, the operating system only delete its directory flags from file table but the windows 8 system can only read and show files on file table, thus in fact the original data is still recorded in certain sector in your storage devices. Thus in fact the original data is still recorded in certain sector in your storage devices. So that means you still have chance to get them back later unless you have written some new data into your disk and overwrite the lost data. Professional data restore software can scan every sector on the disk and find out your deleted files effectively. Daossoft Data Restore is a type of professional file recovery software. It can easily and efficiently recover deleted files from hard drive, memory cards, and USB flash drives in Windows 8 with only a few steps. Now let's see how it goes.
---
Step by Step Guide to Recover Deleted Files in Windows 8
Step 1: Download and install Daossoft Data Restore software in your Win8 PC. Note: this software in Win8 requires administrator privilege to install and run.
Step 2: If the files you want to recover are on a removable disk, insert it to computer or connect it to the computer with digital cable, and make sure that the disk can be recognized and assigned a drive letter.
Step 3: Start the Daossoft Data Restore software and select Deleted Recovery option. And click "Next" to go on.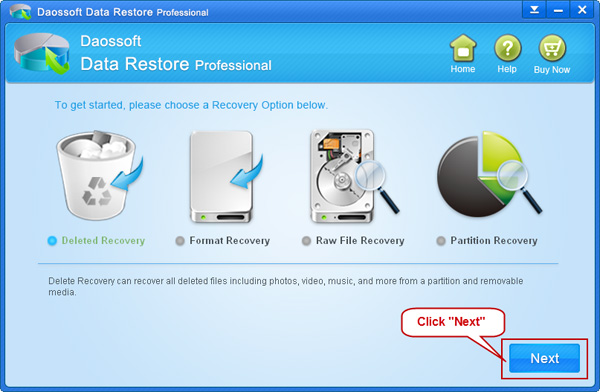 Tips: If the Deleted Recovery option cannot find out your deleted files, choose Raw File Recovery option and scan again.
Step 4: Select the corresponding partition or drive your deleted files are on, and click "Scan" button to scan.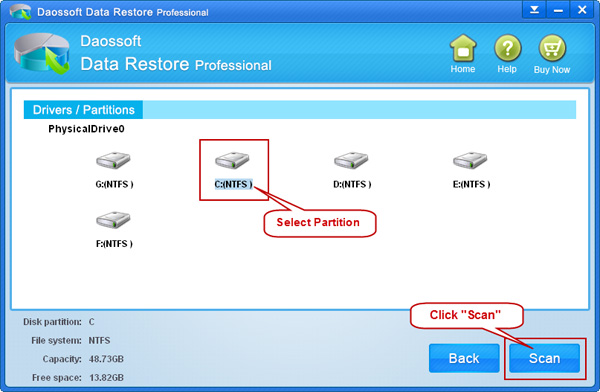 Step 5: Preview all the lists and select the deleted files you need and then click "Recover" button to restore them. Note: when you save them, please remember not to same them to the partition where the deleted files are originally in.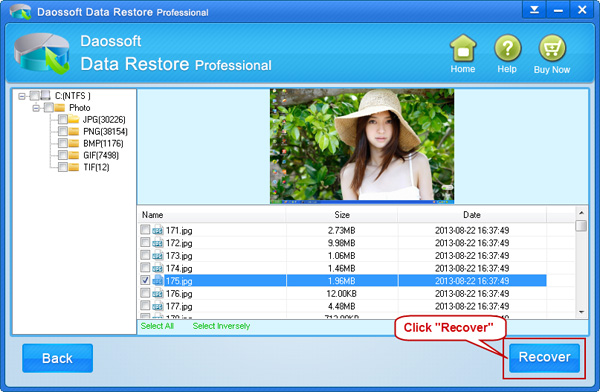 Tips: If the files cannot be previewed and you have difficulties recognizing the files you want by the file names, you can try to pick out them by the following attributes:
The size of the file
The date of the file
The file name suffix

After following the instructions above, you can enjoy the delight of regain your lost files NOW!