Tricks on How to Retrieve PDF Open or User Password
Are you being stopped by a password for *.pdf file and searching for approaches of PDF password? Believe it or not, you can retrieve your PDF Open or User password and access the pdf file after you finish the instructions below. Good luck to you.
Like you know, there are two types of passwords for pdf file, one is owner password, the other is user password or open password. If you get a password box once you open a pdf file, you are meeting an open password; if you can open a pdf file but cannot copy, edit, and print it, you're meeting an owner password, which disallows you to do any other things to the file but read it.
If you are facing an owner password, it's not difficult to bypass it and get the content inside. Just get a screenshot program and take a screenshot.
But if you cannot open the file, you cannot view the content even. In this article, we're to challenge the open password. Our aim is to retrieve the PDF open password.
These are the details:
1. Download PDF Password Rescuer and finish the setup.
2. Left-click Start button on the user interface shown in the following screen shot.
3. Select an attack type you want.
If you are sure of some characters in your password, you are recommended to use Mask attack.
For instance, if you remember that your 9-character password started with a "k" and ended up with a "5", you could type "k???????5" in the Mask box.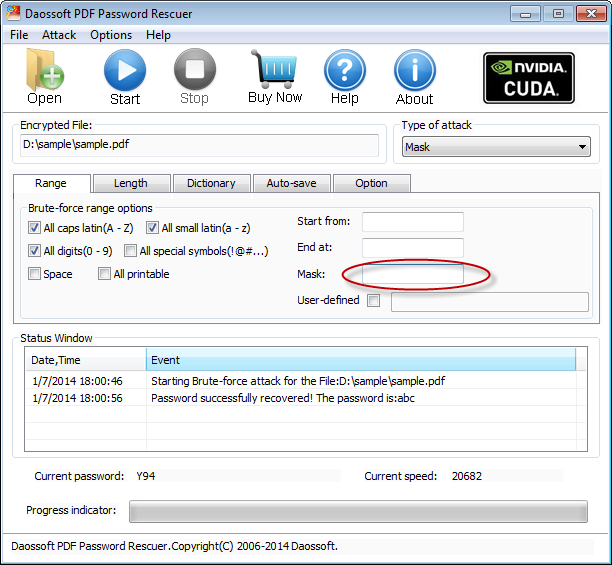 If you have forgotten the password totally, try Brute-force mode.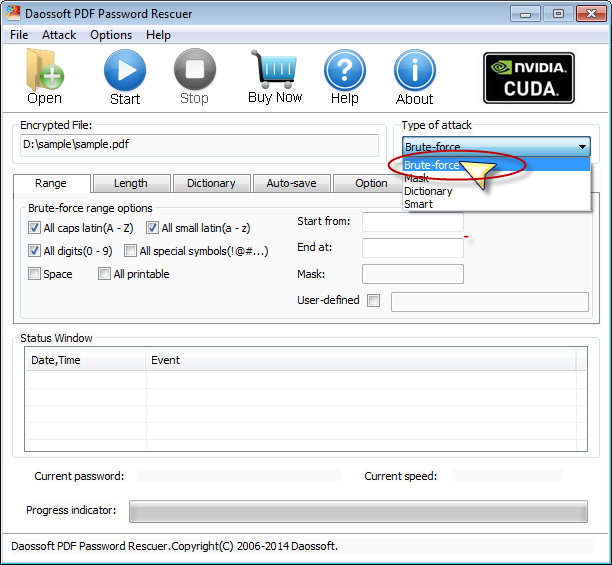 4. To start password recovery, please click Start button.
5. Regain access to the locked pdf file with the recovered password as long as you click Copy button and then Open button. (See the screen shot below.)