How to Reset a Forgotten Windows XP Logon Password With or Without Disc
Welcome to our website! In return for your visit, here I'm glad to show you how to reset a login password in windows XP. Don't trust me? How about having a try? Good luck to you!
Not using Windows XP? No problem! See:
Only a short while ago, Windows XP was the most popular version of Windows. However, it has dropped to the second most popular now, right after Windows 7. A lot of people still like it because Windows XP has become part of their lives. Support for Windows XP will be cut off by April, 2014. This is a memorable passage. Good bye, Windows XP!
Windows XP got mature so early that there are a mass of ways to recover or reset a forgotten Windows XP logon password available online and top 7 ways are listed below.
★ Safe Mode Method ★ The SAM File Method ★ Administrator Permission Method ★ Windows Password Rescuer Method
★ Use Windows XP Password Reset Disk ★ Use an Ubuntu Live CD ★ Make Use of System Repair Disc
Method 1: Reset Windows XP Password through Safe Mode
Features:
For XP Home Edition only
Require knowledge about the net user command
Here's How:
1. Hold down the F8 function key to prompt the Advanved Options Menu.
2. From Windows Advanced Options Menu, highlight and choose Safe Mode with Command Prompt using arrow keys.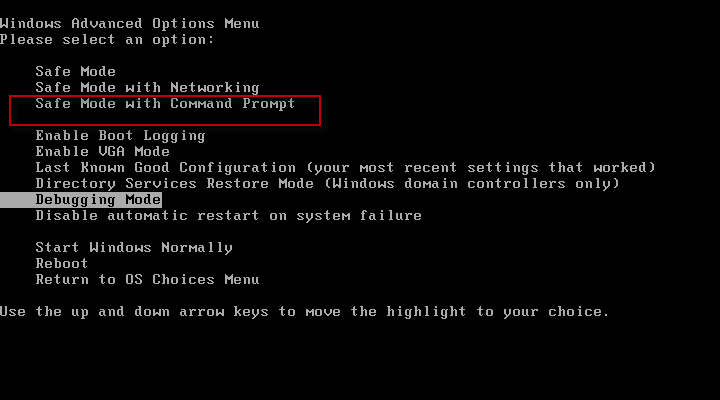 3. Once the Command Prompt is open, you should type in "net user <username> <password>" and hit Enter.
For instance, I might change my password to "doremi7891" by executing the net user command in this way: (see the screenshot below)
net user kinda doremi7891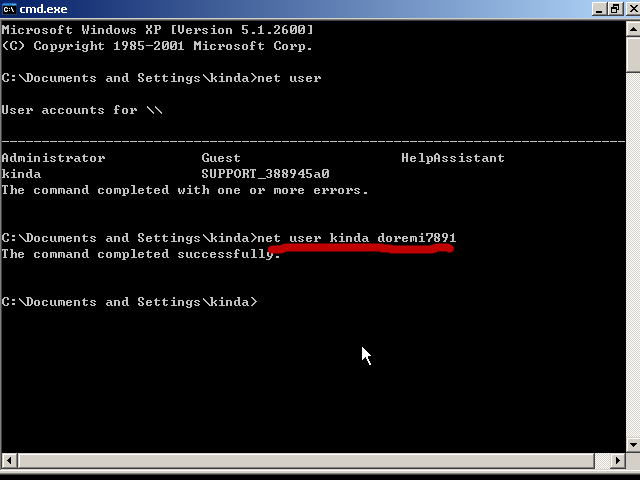 Now you can restart the computer and log back on to your XP with the new password-"doremi7891".
Method 2: Extracting Your Password from the SAM File
As you might know, "SAM" is short for "Security Account Manager." The SAM file is an encrypted file, which stores all the user account information on a Windows PC. When a Windows is running, you are not allowed to extract it because the file is using. So you need an external access, e.g. Windows PE. With the help of Windows PE, you are capable of copying out the SAM file, cracking it with a program called SAMInside and finally finding the original password.
Features:
Need the aid of Windows PE
Recover the Windows XP original password (Which might take hours, days or even months, especially when the password is quite long and complex.)
Here's How:
1. Boot the PC from a bootable CD/DVD disc or USB flash drive which contains a tiny operating system. (Usually use Windows PE)
2. Enter the BIOS Setup Utility and change the boot order to make the PC boot from the bootable medium.
3. Access the hard disk drive and copy the SAM file and SYSTEM file, which both locate in "X:\Windows\system32\config\", and paste them to the mobile medium.
Note: "X" stands for the drive where Windows XP has been installed.
4. Transfer the two files from the storage device to another PC that you have access to.
5. Download and run the SAMInside program, and then click the File menu.
6. Click Import SAM and SYSTEM Registry Files, find and double click the SAM file. (see the screenshot below)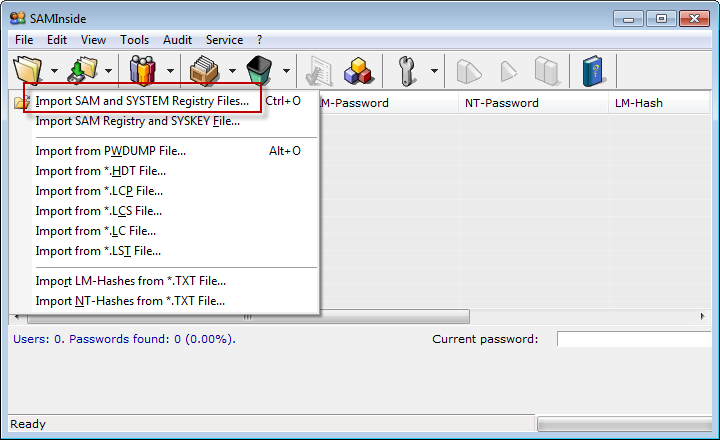 7. In the Open SYSTEM Registry File dialog, find and open the right SYSTEM file.
8. As you can see from the picture below, the program has recovered the Windows password successfully by telling "Users: 3. Passwords found: 3 (100%)."
Note: Here "100%" means that all the user account password(s) has been 100% recovered.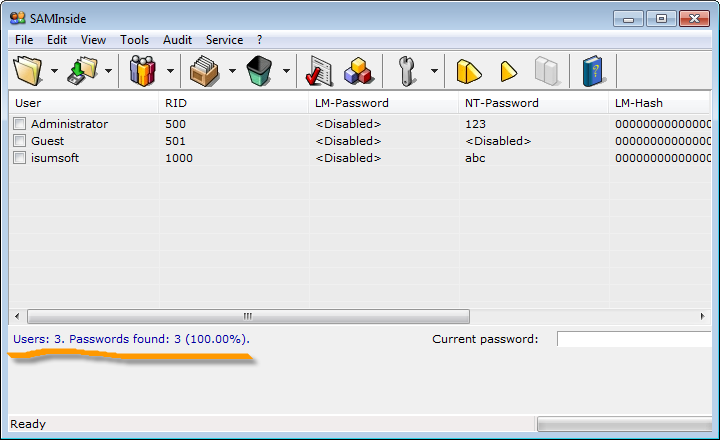 Now, you can retrieve the lost password from the NT-Password item as shown below.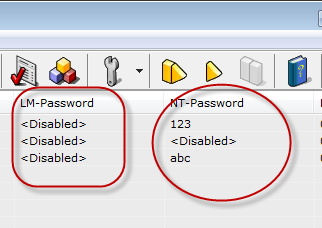 Note: The recovered password is just for example. Do NOT create so simple a password as above.
Method 3: Asking an Administrator Account for Help
Features:
Administrator account required
Support all versions of Windows
Require administrator user
Outlined instructions:
1. Log back into the XP system.
2. Go to Control Pane and Open User Accounts.
3. Select and change the user whose password you want to reset.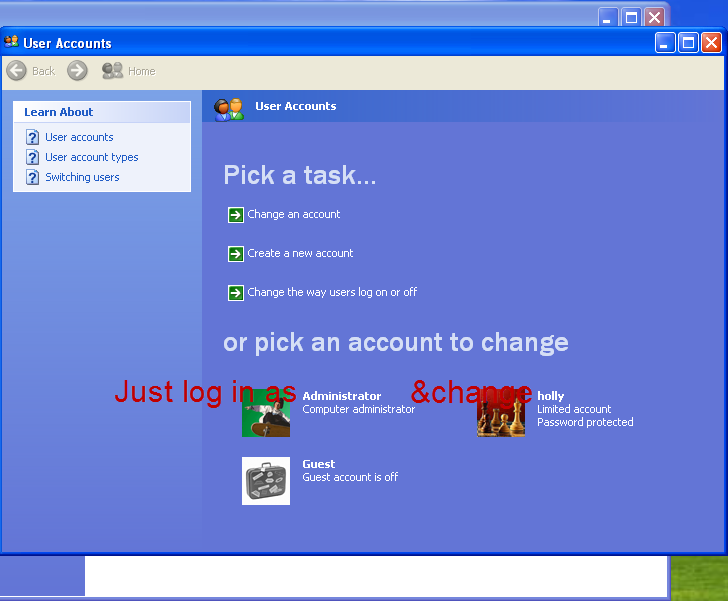 4. Restart the computer to make the new password take effect.
Learn more about... Please see How to Change Your Password in Windows XP Step by Step
If you are the only user on the PC and you have forgotten the password, you'd better ask Method 4 for help.
Method 4 of 7: Windows Password Rescuer Method
As for a third-party application, in my opinion, Windows Password Rescuer is a good option, you can give it a try before you pay for it! This follow show you how to recover Windows XP password with USB Flash Drive or CD/DVD-ROM, so you can quickly login Windows XP without old Windows password. All you need is a blank USB Flash Drive or CD/DVD and an accessible computer.
Features:
No technique required
Easy to use and maintain
Work on all versions of Windows XP system
100% working
With a 3-month money back guarantee
Please follow the guide step by step:
First: Create an alternative password recovery disk
1. Download free trial version of Windows Password Rescuer Personal and install it on a PC you have access to.
2. Insert an empty USB flash drive, a CD or DVD, run Windows Password Rescuer Personal and choose medium type for disk burning on the first interface. (See the screen shot below.)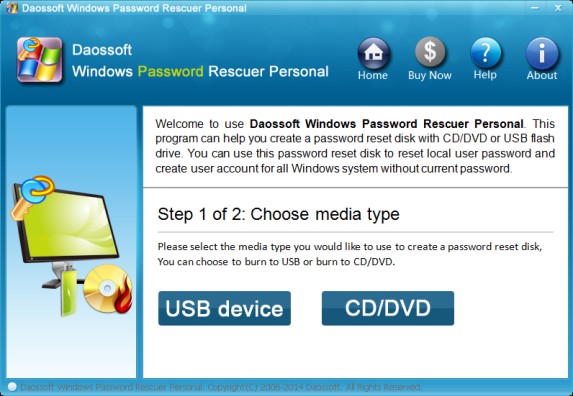 3. Select the USB drive or CD/DVD you just inserted and click "Begin Burning". If your drive is not empty, please make sure the data inside have been backed up before you click "Yes" to start formatting. (See the following screen shot.)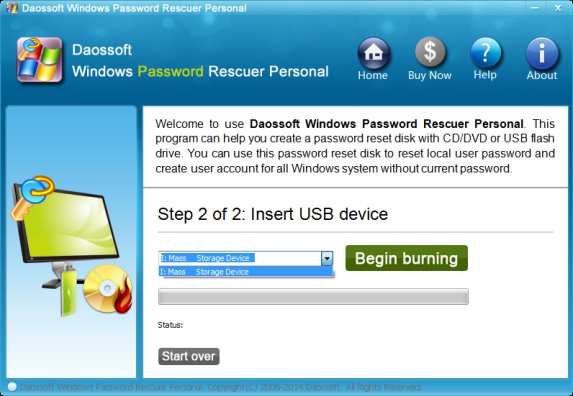 4. As shown in the picture below, the burning is in process. Usually it takes about one minute to finish burning. Once the burning is over, the program will prompt you that the password reset disk has been resoundingly created, and you should click "OK", close the window, and then eject the disk.
Second: Change boot order to boot the PC from the password recovery disk
1. Plug in the Windows XP password recovery USB flash drive or CD/DVD to your locked computer.
2. Restart or power on the computer and hold "BIOS Entry Key" such as F2 key, Del key, F12 key in time.
3. Next, finish the boot order setting, and save the changes by pressing F10 key. Then select "OK" and press Enter key
Note: There are some differences in different PC's BIOS, for more details about BIOS SETUP, pls see:
Third: Recover the Windows XP password by a few clicks.
1. After the boot setting above, the computer will automatically restart and load the Windows PE OS in the recovery disk.
2. Later on, the interface of Windows Password Rescuer will appear. You can select the desired Windows OS because someone might own over one Windows OS on his PC.
3. Select the Windows user whose login password you want to reset and click "Reset Password" to proceed.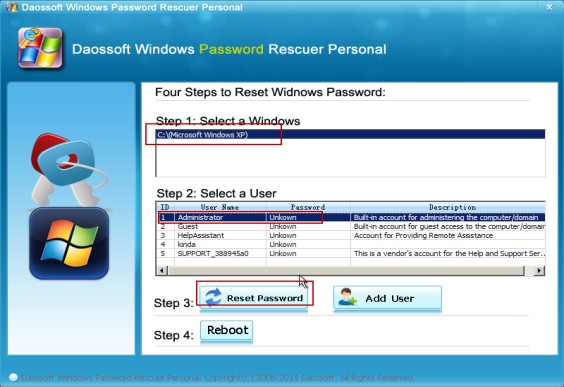 4. When a prompting message box pops up, you should confirm and apply the resetting by clicking Yes.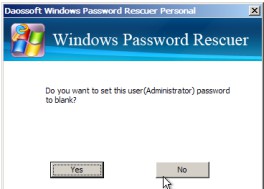 5. As you can see from the table, the password has been deleted to be blank, and you can click "Reboot" button to restart the computer.
6. Eject your USB drive and click "Yes" to restart your computer. Once you enter the login screen anew, you are enabled to log back on to your computer regardless of the forgotten password.
Now forget the forgotten password and use the new one for you have resoundingly got it around.
Method 5 of 7: Use Windows XP Password Reset Disk
Features:
Require disk creation before you lose access to your computer
If you have an available password reset disk, great, it might be one step far away from re-accessing your computer.
Just follow the detailed instruction below:
1. Insert a floppy disk drive or connect a USB drive
2. Boot the lock computer from the password reset disk
3. Reset the lost password by clicking Reset password, which can empty the previous one.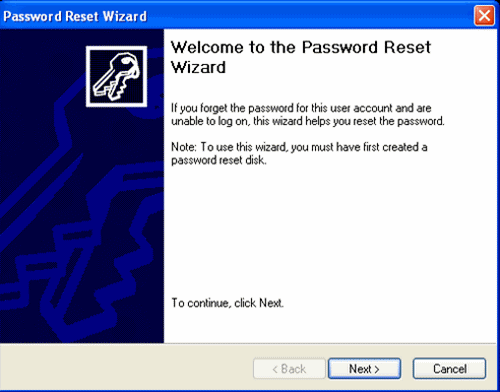 Have no idea of creating a password disk? Don't worry! Ask How to Create a Windows XP Password Reset Disk Free and Use It for help.
Method 6 of 7: Use an Ubuntu Live CD
This way is really working always. It is compatible to all versions of Windows and works 100%. However, it might be a bit troublesome for it has more steps than others and what's worse, it requires some basic knowledge on Linux command at least. So it seems not suitable to beginners. Fortunately, there are lots of ways available here.
Features:
Universal way to reset or delete your Windows user password
Support all versions of Windows
Require the Internet
Require some knowledge about Linux command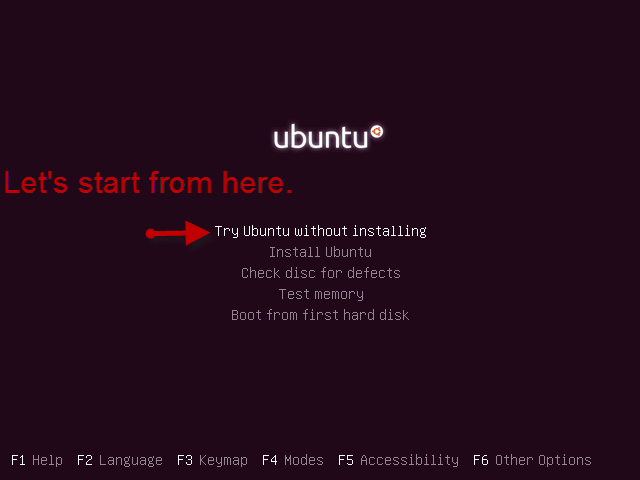 Want a detailed step-by-step guide? Come here and read How to Change Windows User Password with Ubuntu Live CD
Method 7 of 7: Make Use of System Repair Disc
No third-party software tool
Require disk creation before you lose access to your computer
Features:
Different from a password reset disk, a system repair disc works indirectly. That is, it cannot help you reset the lost passcode directly, but it facilitates this process. It can lead you to the Command Prompt application. Once the Command Prompt gets open, you are able to make a difference.
Here's How:
1. Power on or restart your troubling computer.
2. Insert the XP repair disc and boot into the system repair menu.
3. Select Windows Setup [EMS Enabled] and press Enter.
4. Click the Command Prompt link on the System Recovery Options window.
5. Execute the "net user" command. Example: "net user jack 654321", which means that give the user jack a new password,
"654321".
6. Restart your computer and get back into your Windows XP with the new passcode.
Warning: It's illegal to perform the methods above in most cases unless the computer is your own, or you have permission.