How to Create a Windows XP Password Reset Disk Free and Use It
Use a password recovery disk to reset your Windows XP login password, preventing you from forgetting user password. Here will show you how to create a Windows XP password reset disk free and use it to reset your password.It is easy!
Not using Windows XP? See:
Steps of creating xp password recovery disk:
Follow the steps below before you lose your password.
1) Click Start and then open Control Panel,you will see the interface as below: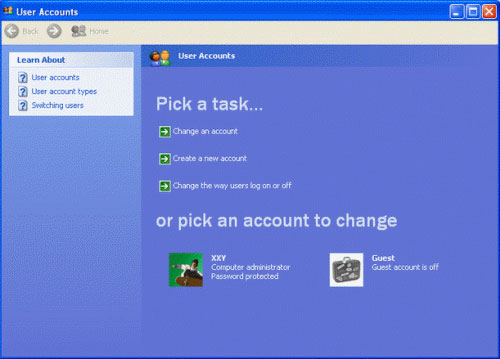 2) Choose an account which you want to create a reset disk for it, such as account XXY I choose.
3) At the moment, you can insert an USB disk, and click Prevent a forgotten password on the left tab. Then a wizard dialog box displays.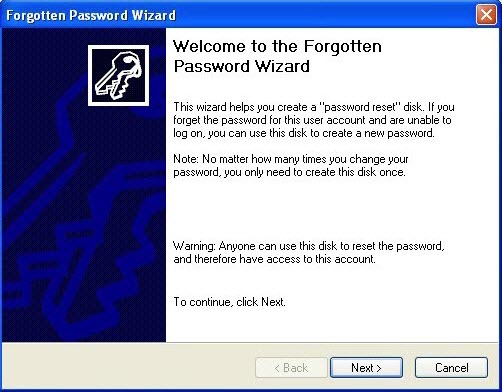 4) Click NEXT,and choose the USB disk you insert that we call it "password reset disk",click NEXT.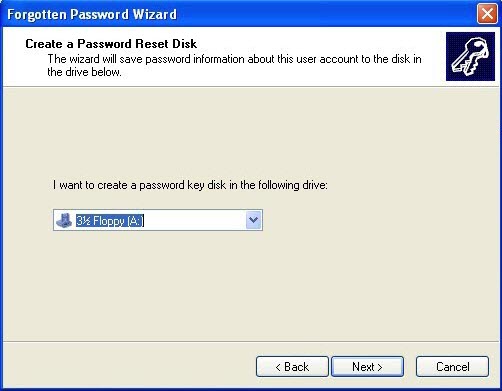 5) Type current user account password and tap NEXT.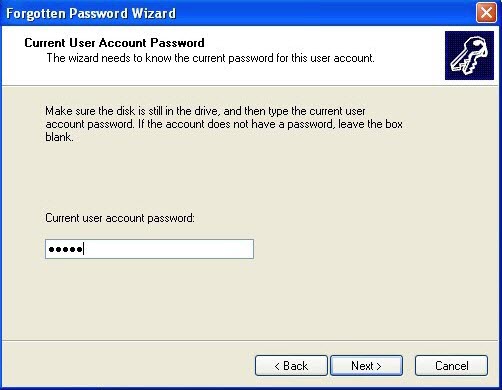 On the other hand, it will show up a dialog box as below if you already have a password recovery disk. But think over the security of password, we must choose YES!
6) Click NEXT→FINISH when you see the progress is 100% completed. Now the account password is storing in your USB disk.
Steps of reseting password:
When you forget your account password, follow these steps and you can utilize the password reset disk to set new password.
1) Restart/Start your computer. On the Windows XP welcome screen, click combination keys CTRL+ALT+DEL twice, you will see the classic logon box. Then don't forget to insert your USB Flash Drive (password reset disk).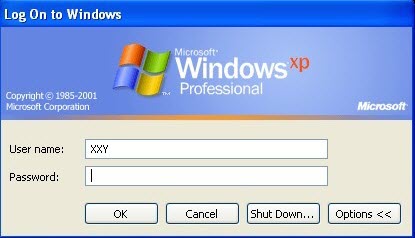 2) Type the user name that you want to use and left password box blank, and then press ENTER or click OK. Note You will receive the following error message: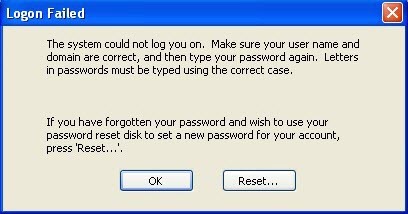 3) Click Reset. The Password Reset Wizard starts. And it enables you to create a new password for your user account. In the Password Reset Wizard dialog box, click NEXT.
NOTE: If you have not inserted your USB Flash Drive (password reset disk), you will receive this notice below. Click OK and insert it to try again.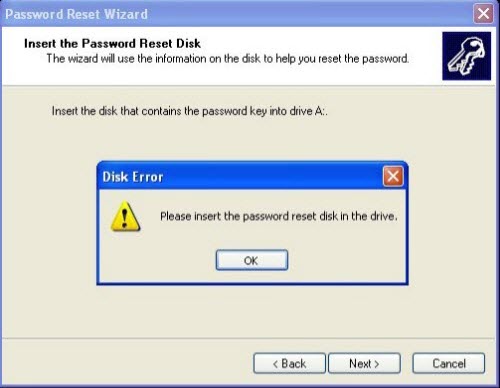 4) Choose the disk which you insert, click NEXT.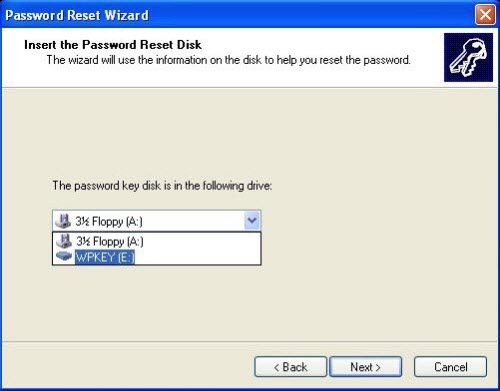 5) Type a new password in the New password box, and then type the password again in the Confirm box. In the Password hint box, type a hint for the password or not, and then click NEXT→FINISH, and then try to log on to Windows XP again when use the new password you have just create.