How to Unlock Windows XP Laptop or Ultralbook
Due to some people locked out of their computer and have no idea of how to sovle this problem. This tutorial describes some methods to help you unlock Windows laptop or ultralbook password on Windows XP. This is a good news that you don't need to reinstall your Windows XP system when you lost your Windows login password. Unlocking Windows password is easy now!
Section 1: Unlock Windows XP Password via Password Reset Wizard
On the Windows XP welcome screen, type the user name and left password box blank, then press ENTER. You will receive the following error message box: Logon Failed. It is said that you can use a password reset disk you have created to unlock Windows XP password. If you have created a password reset disk for your locked account, follow the steps to unlock Windows XP user account:
Step 1: On the Logon Failed box, click "Reset" button.
Step 2: In the Password Reset Wizard dialog box, click NEXT. Insert your password reset disk you have prepared, and then choose the disk which you insert, click NEXT.
Step 3: Choose the disk which you inserted, click Next to continue.
Step 4: Type a new password twice. Click Next→Finish.
If you never use this free system tool, please refer to:
Section 2: Unlock Windows XP Ultrabook by Command Prompt
If you have another account with admin privilege or you have enabled the built-in administrator account, you can easily unlock Windows XP Ultrabook with CMD.EXE.
Steps to unlock Windows XP password with CMD:
Step 1: Logon to Windows XP as administrator.
Step 2: Click Start, type cmd in the Run box or Search box and press Enter(You also can logon Safe Mode with Command Prompt).
Step 3: Type in net user, all user accounts will be displayed.
Step 4: Type "net user" "user name" "new password" (without quotes), press Enter. Then it will prompt you that the command completed successfully and you can restart your computer to login with new user's password.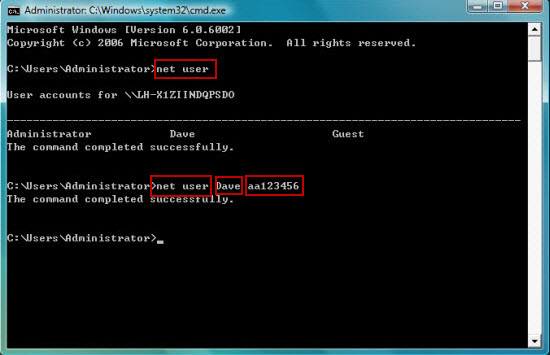 Section 3: Unlock Windows XP Laptop in Safe Mode
Unlocking Windows XP Laptop in Safe Mode works perfectly. Now let's start! Press F8 as soon as you can when restart your computer, it will show you several options to login Safe Mode. Select Safe Mode and hit Enter. There is a built-in administrator account with blank password if you never change it. You can try to log on as administrator without password.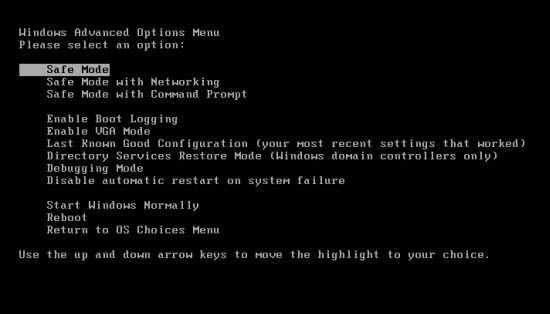 After successfully login, right-click My computer and choose Manage, open theUsers folder, right-click a user name (take Dave for example) and select "set password", type in your new password twice and click OK. But note that you may lose some personal files of the account in this way.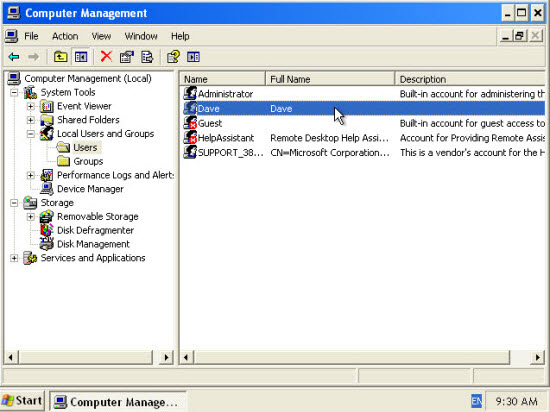 Section 4: Unlock Your Windows XP Ultrabook/Laptop with Windows Password Rescuer Personal
Windows Password Rescuer Personal is an all-in-one Windows Password unlocker tool which can unlock your Windows XP ultrabook and laptop password without losing files or formatting your system. If you have been locked out of Windows server 2008/2003/2000, Windows Password Rescuer Advanced can help you unlock it instantly no matter what password you lost (domain or local password).
Step 1: Free download Windows Password Rescuer Personal and install it to a computer which you have access to. Start this software and use it to create a password unlock disk with CD/DVD or USB.
Windows Password Rescuer Personal trial version free download.
1. Insert a writable CD or plug in an blank USB flash drive.
2. Select the right burning option of burning and your Drive name.
3. Click Burn button to start burning, this process will take about one minute.
4. After successfully complete burning, move away your disk.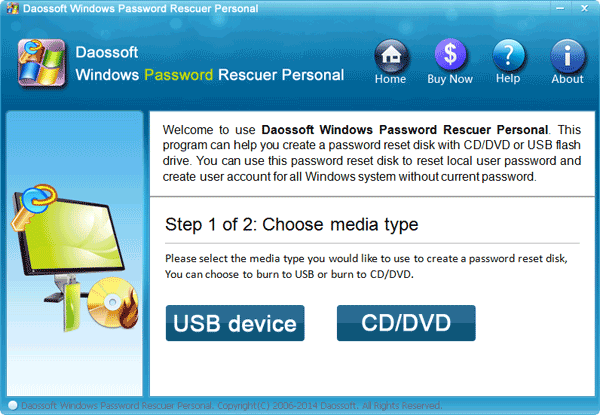 Step 2: Insert the Windows password unlock disk to your computer.
Step 3: After boot from your password unlock disk, Windows Password Rescuer personal will start automatically. Then you can reset whichever user password.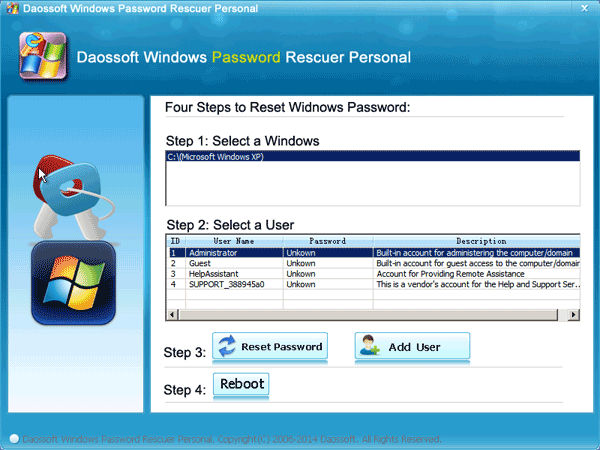 1. Select an user name from the list and click Reset Password.
2. Click Yes when a confirm massage appears, and the password will be removed.
3. Now you have successfully removed the Windows XP administrator password (displays "blank"). You can redo 1 and 2 procedure to reset other user's password.
4. Now click Reboot > eject your CD/USB and click Yes when a dialog pops up. Then you can logon Windows XP without password.
That's it! May it help you! If not, this's all-in-one Windows XP password reset solution.