Laptop Password Expires? How to Do?
Have you ever encountered such situation shown as below:
I have recently install win 7 on my laptop and now i am not able access my system laptop because both administrator and user logon account has been expired. please do somthing right now because my works are stopped.
In return to this question (quoted from Yahoo), you are recommended to add an administrator offline. (since you are not able to access your Windows right now) Below is how to make it!
Step 1: Download and install Windows Password Rescuer Adavnced.

Step 2: Run the software utility and create a password rescue disk as prompted.
Step 3: Insert the rescuer disk to the locked computer and boot it from the disk.
Step 4: Click the Add User button to add an administrator account so that you log back on to your Windows and access your own documents.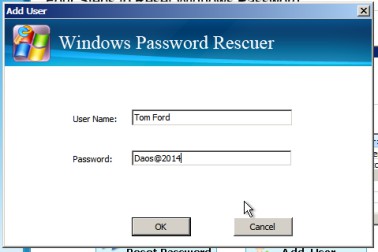 Note: To change password for existing users, you can do it like this: On the above screenshot, select the Windows and the user that you want to make change to.
Step 5: Type in a new password and re-enter it to confirm it.
Note: Once you sign in to the Windows again, please remember to change the default password for the sake of security.
Restart your computer and you will be able to regain the access to your folders and files on Windows in spite of the expired password.