How to Unlock Windows Vista Start Password
Forgot your Vista start password and are facing an incorrect password prompt / message? No worry! This page teaches you how to unlock Windows Vista start password rapidly.
A. Unlock Vista start password using Windows PE (7 steps)
This option requires that you do create a Windows PE bootable disk first. If not, turn to how to create a bootable Windows PE disk step by step.
Step 1: Boot your Vista computer from Windows PE disk. To do it, you should hold some particular keyboard shortcut just after you power on or restart your pc.
Step 2: Soon the system will open the Command Prompt automatically.

Step 3: On the Admin Command Prompt window, use ren and copy command by entering:
ren c:\windows\system32\utilman.exe  c:\windows\system32\utilman3.exe <Enter>
copy c:\windows\system32\cmd.exe  c:\windows\system32\utilman.exe <Enter>
Note: "ren" means "rename"
"c:\" stands for the partition where your Vista was installed.
Step 4: OK, now close the CMD.exe and restart the computer.
Step 5: When you get back to the sign-in screen, you should click the Ease of Access button on the bottom left.
Step 6: Then on the pop-up command prompt, use net user command to unlock your Windows Vista start password, For instance, you might type in like this:
net user "jack slym" Daossoft@2013 or net user jack Daossoft@2013
Note: net user command can add a new user or reset current user's password. So you are highly recommended to keep this Windows PE disk in a private and safe place lest someone embezzles it to commit criminal.
Step 7: Well, when you ok those above, restart your computer and you will be capable of logging back in to your Vista with the new start password.
B. Unlock Windows Vista computer using Windows password rescuer (5 steps)
If you don't have so much time to study Method A and want to unlock your PC fast, you can also try Windows password rescuer for free, which works well and fast.
Steps to unlock Windows Vista computer:
Step 1: Download and install Windows Password Rescuer.

Step 2: Start to burn password rescue disk from running the software utility.
Step 3: Once the disk burning is completed, you should turn to the locked computer and boot it from the rescue disk.
Step 4: Select the Windows OS you want to unlock and the user whose password you would like to change, then click the Reset password button on the bottom.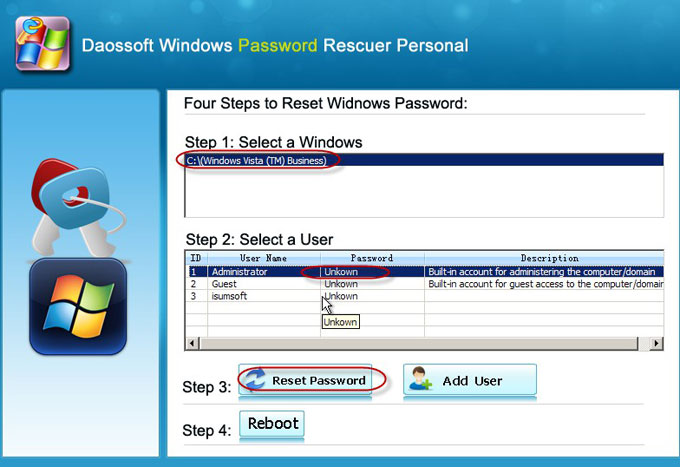 Step 5: Restart your Windows Vista computer and you will be able to unlock it without the incorrect start password.
That's all! May it help you! If this page do not describe your actual situation, you are recommended to go see all-in-one solutions for Windows Vista password reset.