Forgot Your Windows Vista Password? Here's How!
Windows password has advantages and disadvantages that you can use it for personal data protection but it is also an annoying thing when we forgot or lost it. What can I do once I forgot my windows Vista password? In fact, you maybe know that there are many ways can help remove forgotten Windows Vista password, but in some situations most of methods are unavailable. Such as:
1. You can't use another user account to recover Vista password if you have only one administrator account.
2. In Windows Vista, the built-in administrator is disabled by default, we cannot login safe mode to get around other user password.
3. We have not created a password reset disk and have no reset CD.
Is there any way that always works when you forgot Windows Vista password? The answer is yes. We can use Windows Password Rescuer Personal to empty Vista password that you forgot within several minutes. Here I will list the steps of Windows Vista password procedure. In this method, you just need a writable CD or a bootable USB flash drive and an available computer with CDROM or USB port. I highly recommend you to use USB flash drive due to its small size and simple usage.
Step 1: Download Daossoft Windows Password Rescuer Personal and install it on another accessible computer.

Step 2: Run the software to create a password disk.
1. Plug in your USB flash drive, choose Burn to USB Device.
2. Specify your USB drive name from the pull-down list.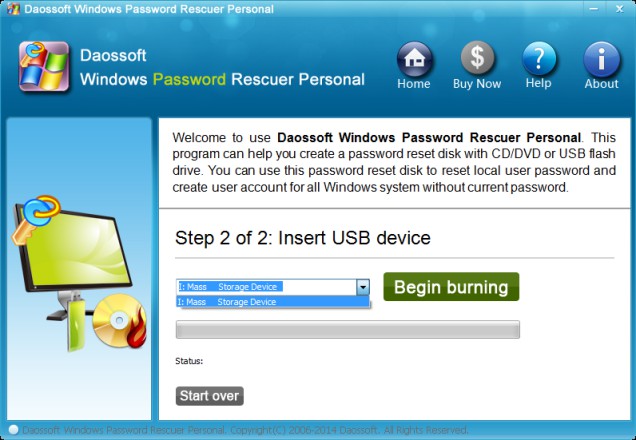 3. Click Begin Burning button to start burning.
4. After successfully complete burning, take out your USB.
Step 3: Plug in the password disk to your locked computer and set the computer to boot from USB.
If you have any problem in this step, please refer to: How to Set Your Computer BIOS to Boot from USB Flash Drive.
Step 4: When the computer boot from USB, Windows Password Rescuer Personal will start automatically and display a friendly interface. Now you can remove the forgotten Windows Vista password by a few clicks.
1. Select your Windows Vista system.
2. Click an user account in the user list.
3. Click Reset Password button. When a confirm massage pops up, click Yes.
4. Click Reboot button to restart your computer. When a confirm massage pops up, extract your USB flash drive and click Yes.
After restarting you can logon Windows Vista as Administrator without password. You can redo 2 and 3 procedure to reset other user's password.
Don't you think that it is easy to get rid of lost Vista password? In additional, in Windows Vista, you can easily reset other users' password if you have another user account which has administrator privileges. Some people would said that they have only one administrator account and forgot its password. Fortunately, Windows Password Rescuer Personal can help you add new user with administrator privileges without logon your locked Windows Vista. With this useful function, people also can easily remove Windows Vista user password when forgot Windows Vista password. Please refer to: How to Create a New Windows Administrator User for All Windows System.