Forgot Your Windows XP Password? 4 Methods are Available
Forgot your Windows XP password? Here list 4 methods are available. Most people feel pretty worried when they face a forgotten password on the XP logon screen. Is there any need? Of cource not. Like you know, Windows XP was released many years ago and now there are lots of methods that help you retrieve your lost XP password, among which 4 good methods will be shown later.
>>Method 1: Utilize Windows password reset disk
>>Method 2: Using administrator privilege
>>Method 3: Try to boot into Safe Mode
>>Method 4: Use Windows Password Rescuer Personal
Method 1: Utilize the password reset disk (3 steps)
Once you forgot your Windows XP password, first of all, find the password reset disk you made before and make use of it. The detailed steps are as follows if you have no idea that how to use it.
If you want to make a password reset disk just after you get back into your XP, please refer to: How to Create a Windows XP Password Reset Disk Free and Use It.

Step 1: Start your locked computer, insert your USB reset disk. In the welcome interface, press Ctrl+Alt+Delete keyboard shortcut twice, get into the classic log on box. Then type the target user name and a wrong password or leave it blank, and then press ENTER or click OK. System will show you logon failed and pop up an error massage.
Step2: Click Reset password and it will show you the Password Reset Wizard which enables you to create a new password for your user account. In the Password Reset Wizard dialog box, click Next.
Step 3: Select the disk which you inserted, click Next. Type a new password in the new password box, and then type the password again to confirm it. Type a hint for the password if you need, and click Next→Finish, then you can log on to Windows XP again with the new password you just created.
This USB Password reset disk can only reset a certain account which you have created for it before, otherwise it won't help when you change the password. So it's better to create a password reset disk when you add a password to account or change your user password.
Method 2: Retrieve your forgotten password using administrator privilege (4 steps)
To accomplish this task, you need another account with administrator privileges.
Step 1: Login to Windows 7 as administrator (or you can login safe mode with Command Prompt).
Step 2: Click the Start menu, type "cmd" in the Run box and hit Enter.
Step 3: In the cmd window, type in net user and press Enter, all user accounts will be listed.
Step 4: Now you can reset whichever user password by typing net user. Type in net user "your user name" "your new password", press Enter. Then it will prompt you that the command completed successfully and you can login XP with new user's password after restarting your computer.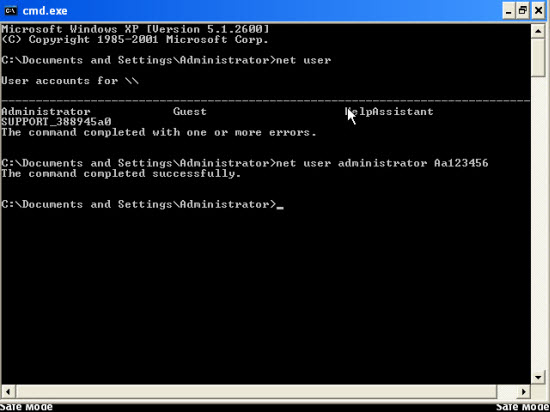 Method 3: Forgot the Windows XP logon text password? Try to login Safe Mode
In Windows XP, you can try to login Safe Mode and you may get new discovery. Restart your computer and press F8 immediately then you can see the following interface. Select safe mode and hit Enter. In fact, there is a built-in administrator account with blank password. You can try to logon as administrator without password.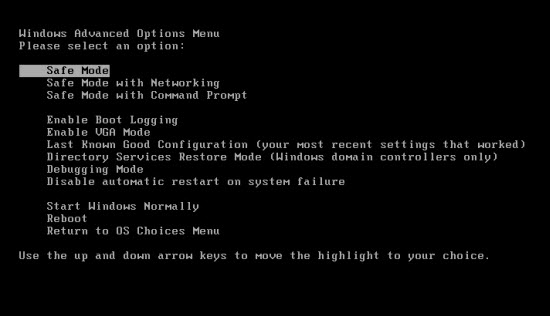 After successfully login, right-click My Computer on the desk and click Manage. You will see the Computer Management window, open Users folder, right-click a user name (take Dave for example) and select "Set password", type in a new password twice and click OK. Then you can login Windows XP as Dave with the new password. This is a easy way to help you retrieve Windows XP forgotten password if you never login safemode or change the built-in Administrator password.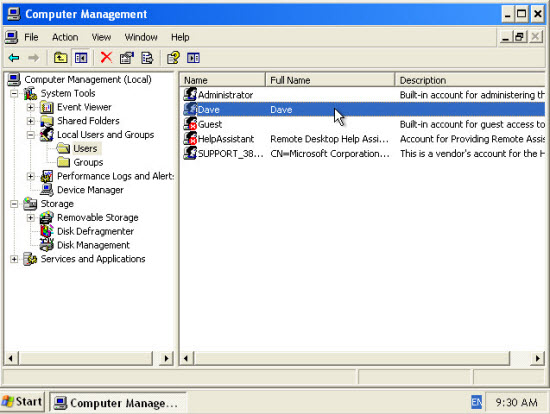 Method 4: Retrieve your forgotten XP password with password recovery tool (3 steps)
Windows Password Rescuer Personal is an all-in-one password recovery tool which can recover Windows 8/7/Vista/XP/2000 password without losing files or formatting your system. It is an easy-to-use tool that can help you easily retrieve Windows XP forgotten password. All you need to do is download the software and create a boot disk. Just 3 steps:
Step 1: Free download Windows Password Rescuer Personal and install it to a accessible computer. Start this software and use it to create a bootable disk with CD/DVD or USB.
Click Free Download the Trial Version
1. Insert a writable CD or plug in a blank USB flash drive
2. Select the right burning option of burning and your Drive name
3. Click Burn button to start burning, this process will take about one minute
4. After successfully complete burning, move away your disk.
Step 2: Insert the bootable disk to your computer..
Step 3: After booting from the disk, Windows Password Rescuer Personal will start and display a friendly interface. Reset your user password by a few clicks.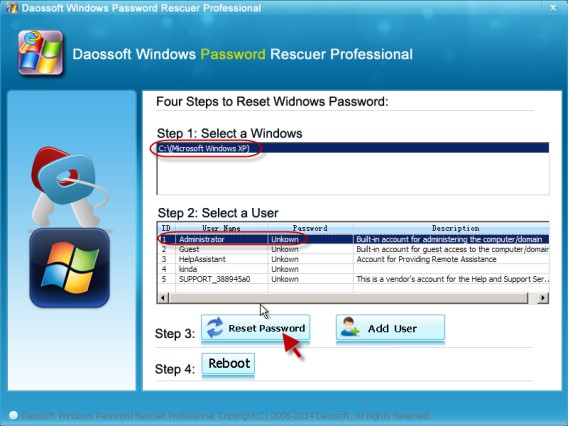 1. Select a user name from the list and click Reset Password.
2. Click Yes when a confirm massage appears, and the password will be removed (show blank).You can redo 1 and 2 procedure to reset other user's password.
3. Now click Reboot > eject your boot disk and click Yes when a dialog pops up. Then you can logon Windows XP without password.
Here I used to meet some questions on Answers as:
1. If I have forgotten my Windows XP password without the password reset disk, then how do I get back into my system?
2. How to solve the problem of "I Lost My Windows XP Password"?
3. Lost windows XP password no disk! Is there another way to log in to recover the password on Windows XP?
4. How can i get back my Forgot Windows XP administrator password?
This is said that many people have lost their Windows XP administrator password for a variety of reason. Maybe they have a long holiday, someone change their password unauthorized, install several Windows system in one computer and confuse the passwords and so on.
However, what can we do when we meet this common problem? To asking a computer expert for help? lol, in fact, you can recover Windows XP password by yourself and just need a few minutes. You can see my help With This - No More Searching for How to Reset a Forgotten Windows XP Logon Password. From now on, don't worry about anything when you forget windows XP password. Hope this can help you.