How to Unlock Windows 8 Computer Without Password
Got your password lost? No matter! It is really no big deal! First, you are recommended to try recalling your PC's password before you ask a tool or method for help. However, if it doesn't work, stop using your head and read this page which diplasys some tips about how to unlock Windows 8 computer without password.
Unlock your Windows 8 computer with Linux Mint live CD
Got a Linux Mint live CD? Well, it's not far away from getting back into your Windows 8. All you need to do is just to find it and insert it to the CD drive of your locked computer, and then follow the steps shown as below:
Steps to unlock Windows 8 PC:
Step 1: Boot (or reboot) the locked computer from the Linux Mint CD.
Step 2: The bootable disc will loading the system files automatically.  Once you get to the Linux mint desktop, click the Menu button on the bottom left,
Step 3: Click the Menu in the bottom left corner, click Preferences and finally Disks.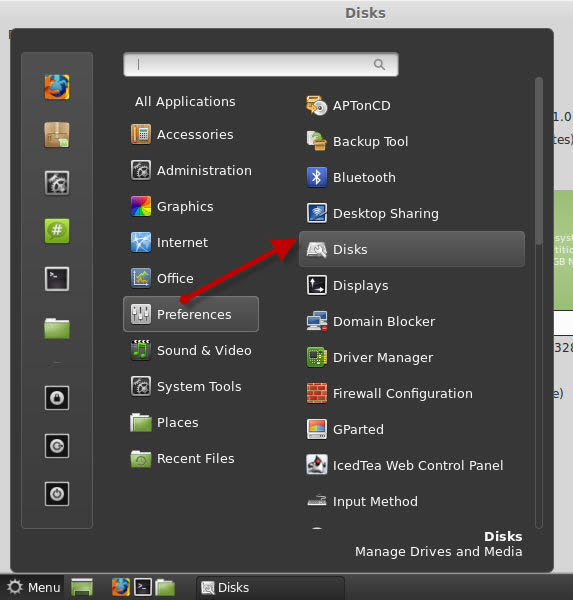 Step 4: Select the Windows disk in the left pane and then click the arrow button (on the right) to mount the disk.
Step 5: Click the shown link that says "Yes, mounted at xxxxx…"
Step 6: Browse to the application file: Windows\system32\utilman.exe and change its name to "utilman2.exe"
Step 7: Next, search "cmd.exe" in the Search box which can be opened by pressing the magnifier icon. Find it and rename it to "utilman.exe".
Step 8: OK, now restart your computer by opening the Menu and clicking the Power button, and then eject your Linux Mint Live CD.
Step 9: On the logon screen, click the Ease of Access Center icon, and type in and execute:
lusrmgr.msc [Enter]
Step 10: Double click the Users and right click the user to set password.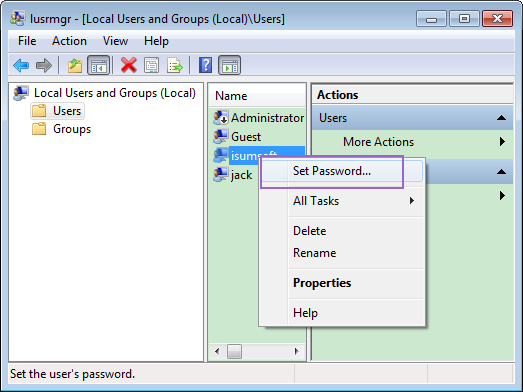 Step 11: Next, re-create a new password and then restart the PC. Congratulations! You have successfully unlocked your Windows 8 PC.
Unlock Windows 8 computer using Windows password rescuer
If you don't have enough time to study Method A and want to unlock your computer instantly, you can also have a free try on Windows password rescuer which works well and fast.
Steps to unlock Windows 8 computer:
Step 1: Download Windows Password Rescuer Advanced and complete the installation.
Step 2: Begin burning password rescue disk with running the application.
Step 3: Once the disk is completely made, you should turn to the locked computer and boot it from the reset disk.
How to Set Your Computer BIOS to Boot from CD/DVD
Step 4: Select the Windows OS and the user that you want to unlock, then click Reset password.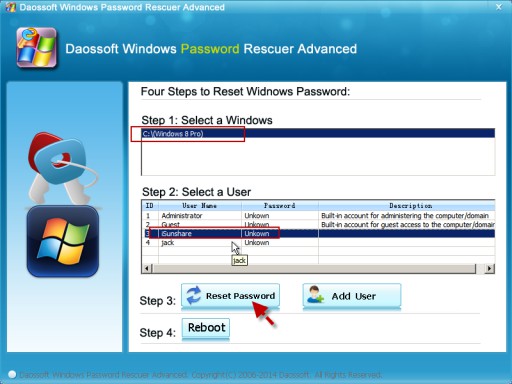 Step 5: Restart your win 8 computer and you will be able to unlock it without the old password.
That's it! Thanks! May it help you. If not, this's all-in-one Windows 8 password reset solution.