How to Unlock My Password Protected Notebook Computer Fast
If your Notebook is locked simply because you forgot the password, ok, come right here! You can unlock your notebook computer fast and even without disk as long as you closely follow the steps below.
Important: If you have got a windows password reset disk, you are highly recommended to unlock your laptop with it. Please go to my all in solution for Windows password at How to Create and Use a Windows 7 Password Reset Disk for help! If not, you might find this page a great helper! Good luck, man!
To do the trick, begin with: (Free Trial & 5 steps to unlock your notebook computer)
Step 1: Free download Windows password rescuer tool (shared and free tried) and complete the installation.

Step 2: Run the tool and click several times to create a password rescuer disk as you are told.
Step 3: Plug in the password rescuer disk to the locked notebook computer and then boot your pc from the disk by pressing some keyboard shortcut, usually F2, DEL key. If not, go to How to Access Your BIOS by BIOS Entry Key for detailed instructions)

Step 4: On the later displayed window, click Reset Password before you specify the Windows system and the user whose password you forgot. After that, you will be able to unlock the notebook resoundingly!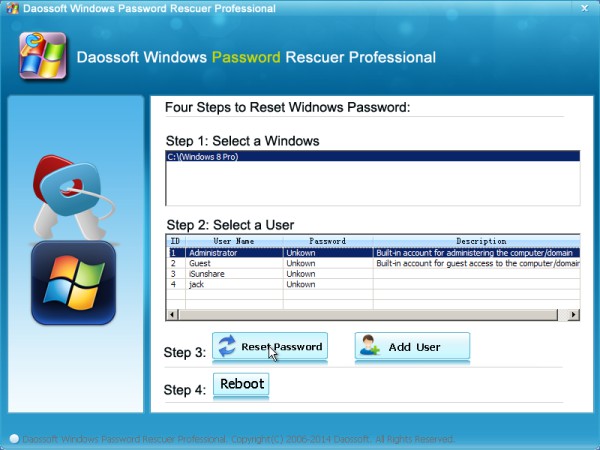 Step 4: Click reboot to re-run your notebook computer so that you can log back in to Windows to apply the new password.