How to Remove Logon Password from Windows Vista
How to remove Windows Vista password if you lost the password? Lots of people will meet this common problem, but it usually perplex people that they don't know how to do. In fact, there are many solutions can be found on the internet that can help remove the password, but some of them are complex for a computer new hand. Now I collect three methods which are easy to use to you, here's how to remove your logon password from Windows Vista! Good luck, man!
Solution 1. Use professional Vista password software
As a well-known Windows password software, Windows Password Rescuer is a safe and fast way for Windows 8/7/Vista/XP/2008/2003/2000 password remover. Why I introduce the software to you? Because it is easy-to-use that is suitable for all people especially for computer novice. Just need two simple steps to remove forgotten Windows Vista password.
Step One: Download Windows Password Rescuer Personal and install it to an accessible computer.

2. Insert a writable USB flash drive, run the software. Choose USB Device - choose the disk you just inserted (your USB) - click Begin Burning button. Wait for a moment, it will complete burning, then eject your USB flash drive.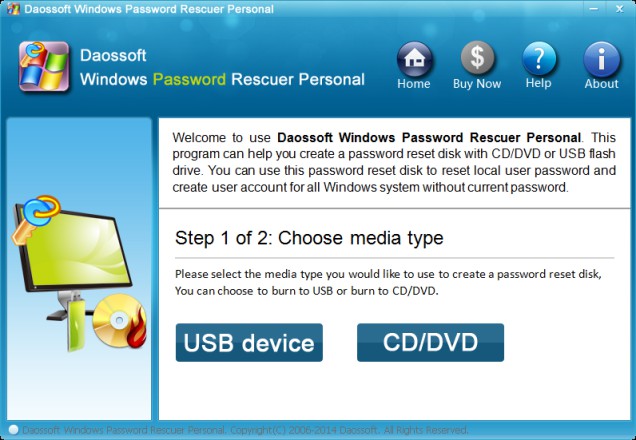 Step Two: Use the Vista password disk to remove Vista password.
1. Insert Vista password removal disk to your locked computer and set it to boot from USB, it is easy! If you still have questions about BIOS Setup please refer to: How to Set Your Computer BIOS to Boot from USB Flash Drive.
2. Wait for a moment, It will display a friendly operating window, and you can remove whichever user password on it. Click a user account in the user list and click Reset Password, click Yes to confirm it.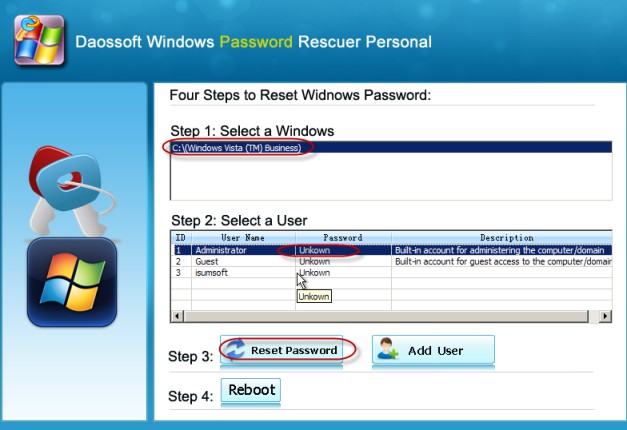 3. Later on, click Reboot. Eject your USB flash drive and click YES when a confirm massage pops up. After restarting your computer, you can logon Vista without password!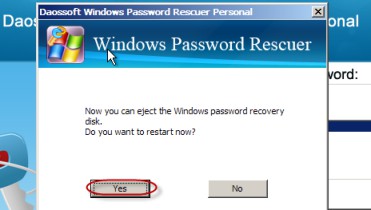 More usage details of Widnows Password Rescuer Personal you can refer to: How to use Windows Password Rescuer Personal.
We can especially use Windows Password Rescuer Personal to create a New User with administrator privileges without log on. Then you can login Windows directly with the new user. (Note : Don't use it to hack other's computer or steal private data that it is illegal).
Solution 2. Use a password disk to remove your Vista password
In Windows Vista, users can create a password reset disk which can easily remove the password you forgot. But what is it? Well, you can easily create one with a blank CD or USB flash drive. With this disk, you can remove the Vista password when you really can not remember it. But note it is available for only user account, if you want to prevent forgetting another user password, you must prepare another disk for it.
1. Click Start and open Control Panel.
2. Click User Accounts and Family Safely and open User Accounts.
3. Insert a blank CD or USB Disk. Click Create a password reset disk on the left pane. Then it will display a wizard.
4. Click "Next", and follow the wizard to complete the creating.
How to remove the old password and create a new:
1. Start/Restart your computer, on the logon box type in your user name and an incorrect password and press Enter.
2. Then the system will show you a hint of your password. Click the hint and the password reset wizard pops up.
3. Now insert your password reset disk and you can remove Windows Vista password with it within seconds. Of course this disk must be created for your current password.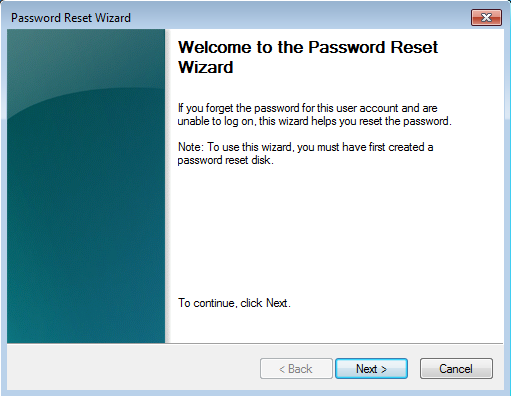 Solution 3. Use free Vista password tool
If you have not created a password reset disk for your user account and unfortunately forgot Vista password, please fell free to google for free Vista password tool that can help remove Windows Vista password by a bootable CD. There is a popular tool: Ophcrack. This is based on rainbow tables will spend you much precious time to download and crack password. Once you lost Windows Vista password, Ophcrack may be a good choice to recover your original Vista password. However, many Windows users failed to remove and recreate Windows password as its large ISO file which is more than 496MB and complex operations. So it is more suitable for computer experts test.
Not using Windows Vista? Please refer to: