Windows Server 2012 - Add User
There're so many methods to add users on Windows Server 2012. This page collects 5 great methods about how to add users in Windows Server 2012. Among them, some require DOS command, some don't; Some need administrative privilege, some do not. You should choose the one that most works for you.
Quick access:
Method 1: Add user by Windows 2012 PowerShell
Method 2: Control panel method
Method 3: Local users and groups method
Method 4: Use command prompt
Method 5: Add users to Windows Server 2012 offline
Method 1: Add user by Windows 2012 PowerShell
Press Windows logo key to switch to the Start Screen. If you use a touch screen, just right swipe from the right edge of the screen.
Click the Windows PowerShell tile
Type in "net user" and run it. As shown below, there are two user accounts in all currently.
Next, input "net user <NewUserName> <Password>" Here, I am typing "net user jack daossoft@2014"
Next, check whether the net user command works by typing "net user" and pressing Enter
As you can see in the following picture, there are 3 users now. It worked perfect!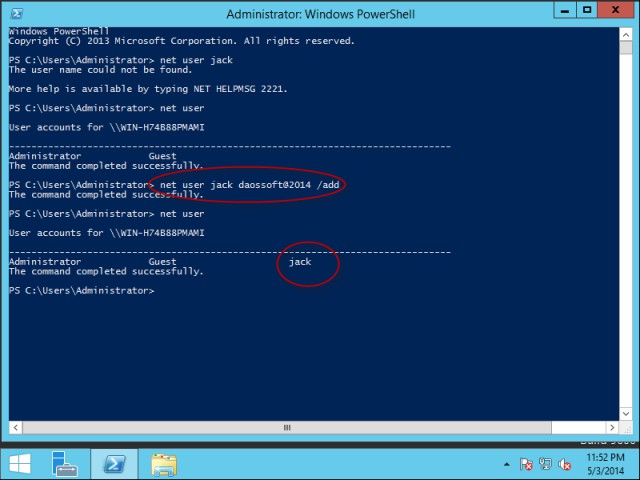 Method 2:  Control Panel Method
Press Windows+W keyboard shortcut -> choose create an account -> on the bottom, click the add a user account link -> Input a new user name, a password and its password hint -> click Finish. That's all.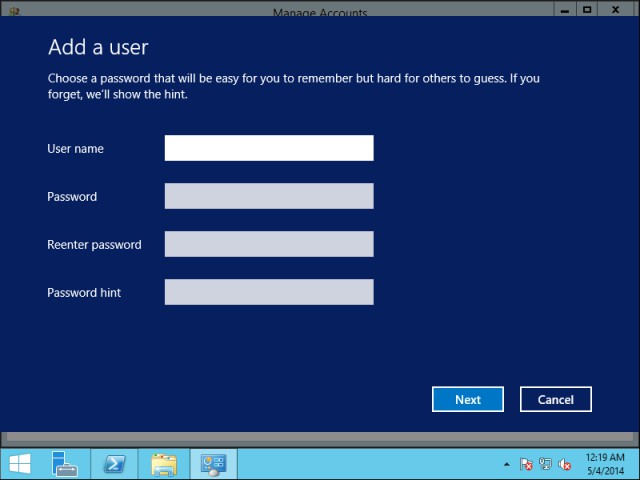 Method 3: Local users and groups method
Press Windows + R key combination to enable Run box.
Type in "lusrmgr.msc" and tap Enter.
In the middle pane of the shown window, double click the users folder-> right click on some empty area -> choose new user -> In the user name text box, enter a user name. -> Enter a password and confirm it-> [The "create" button will become available.] All right! It's time to click on Create.
Note: Remember not to check the box that says "account is disabled."
Method 4: Via Command Prompt
Press Windows +X Keyboard shortcut to show Win+X menu. -> Open the command prompt (admin) -> enter "net user <NewUser> <Password>" Examples: "net user jack 1to3for@daossoft", "net user "Charles Brown" 1to3for@daossoft". It is so simple. Just try it by yourself!
Note: 1) Passwords should meet the passowrd security policy of Windows Server 2012.
2) User names with spaces need quotes, such as "Charlie Brown" Learn more details about net user command
Method 5: Third-party programs to add users to Windows Server 2012 offline
All those methods mentioned above require administrative privilege. If you can't login to Windows Server 2012 as administrator, I'm sorry to tell you that you won't be able to add a user account with them unless you use a program like Windows Password Rescuer Advanced, which allows you to add users to Windows Server 2012 without logging in.
Here's How:
Install and launch Windows Password Rescuer to burn a bootable USB drive or CD/DVD. (It requires only several clicks.All you need to do is to closely follow the on-screen prompt.)
Turn on or restart the computer and make it boot from the boot disk.
On the program UI, click on the add user button -> type in a new user name.-> click on OK
Good job! You made it.
Windows Password Rescuer download link