How to Improve User Account Security On Windows
Enabling "Password must meet complexity requirements" Policy
This article is about the "Password must meet complexity requirements" security policy on Windows. The policy can help you improve the security of user account by preventing you from creating or changing to so short or simple a password that hackers can crack it easily in a short minutes, even in few minutes.  
Important: The policy applies to user account password only, whether changing the current password or creating a new one.
What can it do for you
The complexity requirements policy can enforce you to improve the strength of the account password. If the password is too simple or short, it will never pass the test by Windows.
No password listed below can be created or changed to for any user account on the computer with the complexity requirements enabled:
Shorter than 6 characters.
Contain the user's name or even is the user's name
Contain sequential characters, like 123456789, 987654321, abcdefg, or even is simply the sequence characters
Contain repeated chars, such as 55555555, cccccccccc, etc.
Do contains less than three one of the following four types:
1. Uppercase characters (A- Z)
2. Lowercase characters (a-z)
3. Base 10 digits (0 - 9)
4. Special symbols (example: ?, $, @, &)
How it works
If the password does not meet the policy, the following window (see screenshot below) would pop up, telling you Windows failed to create or change the password. Just give a more complex one a try.

Take Windows' advice and enable "Password must meet complexity requirements"
1. Pop up the Start Menu by pressing Windows Button or "Windows +X" (on Windows 8 or 8.1), and enter "Local Security Policy" in the Search programs and files box

2. Press Enter button.
3. Click Local Security Policy to enter the Local Security Policy settings .
4. In the left pane, double click Account Policies and then Password Policy sub-item.(see screenshot below)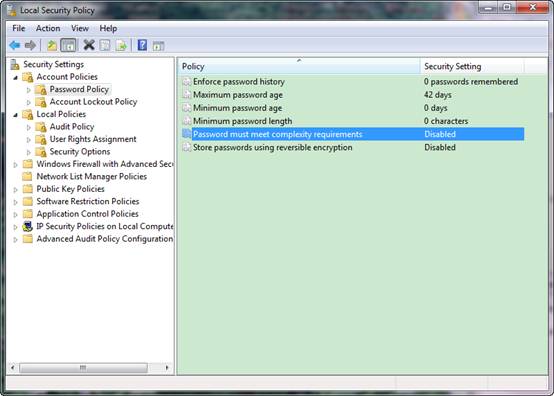 5. Double click the "Password must meet complexity requirements" option.
6. Choose Enable and click OK to quit. (see screenshot below)
7. Close the Local Security Policy window.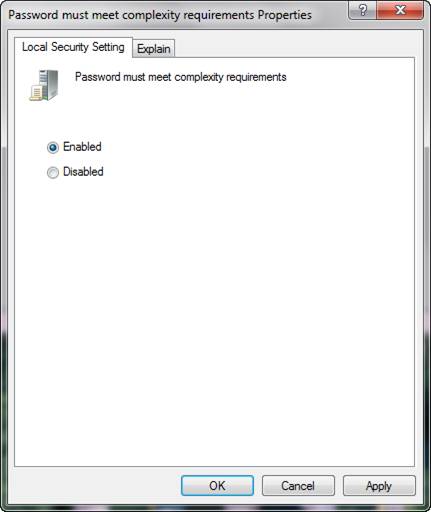 Note:
If you'd like to cancel the policy, do it in the same way above but chooseDisable option in place of Enable option.