How to Recover Product Key of Adobe Acrobat
This page is posted to show you how to recover product keys of adobe acrobat (X and Pro included). To retrieve your product key, you should check for product key (also called serial number or CD key) from Adobe acrobat itself first of all.
Way 1: Looking for the product key you paid for
You can try to find it by expanding the Help Menu and then choose About Adobe XXXX. There you could find the serial number. However, this way doesn't work in some versions or in some cases. But you can try again.If it's sold to you in box, you can check its packaging for it. Also, if you downloaded your adobe acrobat online, you can just sign in to your account and then go to View Product Registration where you might find your key.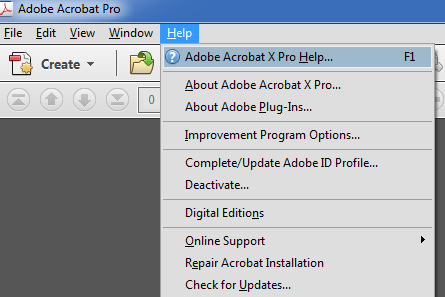 Way 2: Using professional product key recovery tool if desired
If all the ways above don't work for you, there must be something wrong that you do not know. In this case, why not try Daossoft Product Key Rescuer for free?
Here's how to recover product key:
Step 1: Download Daossoft Product Key Rescuer and install it.

Step 2: Run the product key recovery tool, and you will see the easy-to-use interface where you should click on the Start recovery button. Afterwards, the program will automatically detect and display all the keys of supported programs that you installed on your computer. Note: All the keys used to be hidden in the registry and they will not come out until you discover and decrypt them.
As you could see the screenshot below, the first 5 chars of your product key appears. That's because you're using a trial version. With a full edition, you will see all the characters. So if you want to get rid of the asterisks, please "buy now"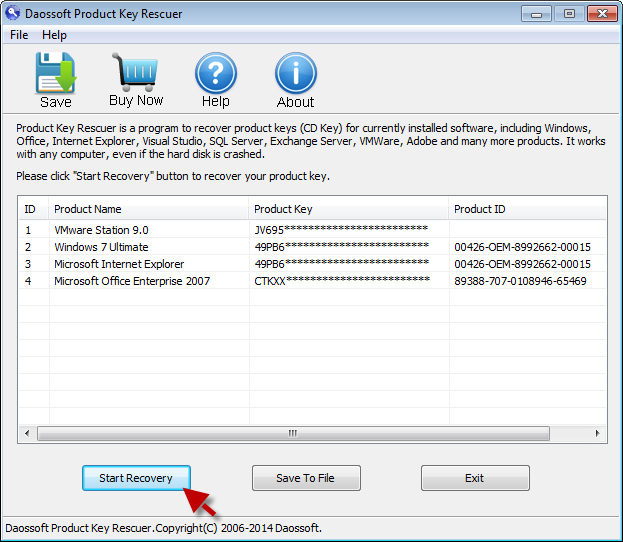 Step 3: Now that you have got the product key, next, you should keep the product key info (by clicking Save to File) in a private and secured place where nobody knows but God and you. You're highly recommended to do so because we are worried about your losing them once again.
Actually, it doesn't matter if you don't save the keys to a file. Just run Product key rescuer directly next time you get lost the key or SN.
Step 4: Finally, click Exit to close the software.

Well done, you made it.