How to Find Office 2007 Product Key Fast on Windows
Get your office 2007 product key lost for unknown reasons? Take it easy! This page shows you how to find Office 2007 product key (in other words, CD key or serial number). Good luck, man!
Way 1: The CD case or the attached manual(if any) might save you
When facing such troubles, first of all, you'd better keep cool. The world is not going to end. Next, try the following ways.
Find your CD case or the manual coming with Office 2007, where you could probably find the product key label. If you purchased Office 2007 online, the product key should be included in an email sent by microsoft. You can check your inbox.
If the ways above do not work for you(maybe you have lost the CD case or the manual  inside), it seems that you must turn to a product key rescuer for help. See Way 2.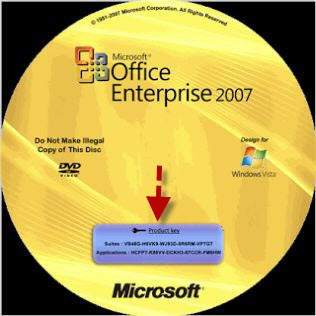 Way 2: Ask a product key recovery tool for help
If you're going to use a product key rescuer, you're recommended to try Daossoft Product Key Rescuer for free. To be clear, the trial version will only display the first 5 chars of your key. So we must inform you of the truth lest you waste time.
Now let's get started:
Step 1: First, you need to download and then install Daossoft Product Key Rescuer.
Step 2: Run the software utility, on the main interface, click on "Start Recovery" and you will see all the support software and their product keys  listed in the table. (see the screenshot below)
Note: Only the first 5 chars of the product key will be displayed if using a trial version.
Step 3: Finally click on the "Save to File" button to save the keys to your computer lest you lose them again. By the way, the file should be kept in a safe place.