Recover Active Directory Domain Password in Windows Server 2008
Are you worrying about forgotten Windows 2008 domain administrator password? Take it easy! there is a special method that can fast recover Windows domain password for Windows server 2008. You just need a bootable CD or USB flash drive and spare about 5 minutes!
Many people use Windows Server 2008 on a workstation computer. This means a group of computers and devices on a network are administered as a unit with common rules and procedures. And the host computer manages these computers through its admin account and password on Active Directory. However, how to manage these computers in workstation? We need to install active directory domain controller on Windows server 2008.
However, what can we do if we forgot or lost Windows domain admin password? In fact, there are many methods for resetting Windows password, but most of these methods can reset Windows local user password only.
Fortunately, we can use Windows Password Rescuer Advanced for Windows server 2008 Active Directory password. It is a powerful software which can recover Windows 8/7/Vista/XP/2008 password instantly. By this small software you can easily reset domain or local admin password without lose anything and do not require any technical knowledge.
To reset Active Directory domain administrator and user password on Windows Server 2008, follow three steps below:

Step 1. Download and install Windows Password Rescuer Advanced on another accessible computer. Run the software to create a Windows domain password disk.

Create a CD/DVD or USB disk, just need 3 steps:
1. Insert a writable CD/DVD or a blank USB drive.
2. Select Burn to CD/DVD or Burn to USB option, and choose the drive which you inserted from the down list.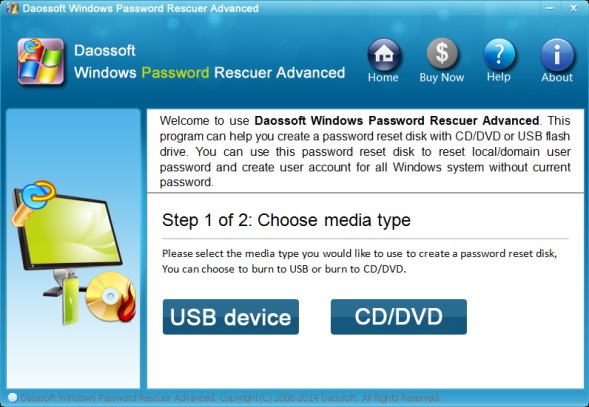 3. Click Begin Burning button to start burning, you will successfully complete the burning in one minute.

Step 2. Insert your disk and set the "server computer" to boot from it via BIOS SETUP.
How to Set Your Computer BIOS to Boot from CD/DVD
Step 3. Recover your password instantly.
Wait for a moment, Windows Password Rescuer Advanced will start up automatically and display an operation full window for you.
Option 1: Recover the domain administrator password.
1. When the operation window appears, click Administrator account in the users list.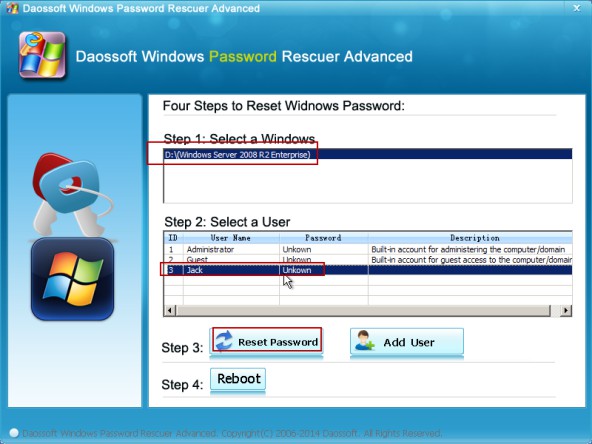 2. Click Reset Password. When a confirm massage pops up, click Yes.
Notice: In order to meet the password policy requirement, this software will set the password to "Daossoft@2014" by default.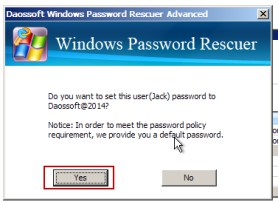 3. Now you can click Reboot button to restart your computer. When a dialog box pops up, eject the disk and click Yes to restart, then you can logon your domain as administrator with the new password.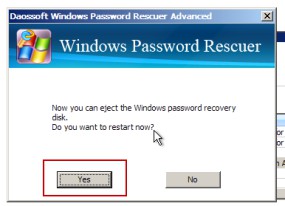 Option 2: Recover the domain user password.
After resetting the domain Administrator password, you can log on Windows server 2008 as administrator and then reset whichever domain user password like Windows server 2008 (or Windows 7, Vista, XP) in Active Directory.
If you just want to recover a domain user password, do as below:
1. Click Add User button, type in your user name in the user name box and click OK when the create new user dialog appears.
Your user name will appear in the user list and its password has been reset as Daossoft@2014.
Click Reboot button, when a confirm massage pops up, eject your disk and click Yes to confirm restarting. After rebooting, you can log on your windows with new password.