How to Reset Windows Server 2003 Login Password Quickly
Forgot the login password for your Windows Server 2003's user account? No worry! It's really no big deal. Believe it or not, you can reset or recover your Windows server 2003 password on condition that you closely follow the instructions below. Good luck, man!
3 methods are available for you to choose:
Ⅰ Linux Mint Live CD Method (for all Windows but a bit complex)
Ⅱ System Repair Disk Method (quite simple but need system repair disk)
Ⅲ Forgotten Password Reset Software Method (for all Windows and easy-to-master)
Recover Your Windows Server 2003 Login Password with Linux Mint Live CD
This method get back your lost password rather than reset or remove it. If you just want to reset it, go to Method 3
Here's How: (6 steps)
Step 1: Insert your Linux Mint Live CD and restart the locked server computer.
If you don't have a existing Linux Mint CD, you can download its iso image file and burn it to a USB drive, CD or DVD using image burning software tool. Free download from here: http://www.linuxmint.com/download.php
Step 2: Boot the computer from the CD-ROM
Step 3: On the Desktop of Linux MINT, double click the Computer icon.
Step 4: Open the Windows disk drive by double clicking it.
Note: In most cases, the Windows disk drive is mounted automatically.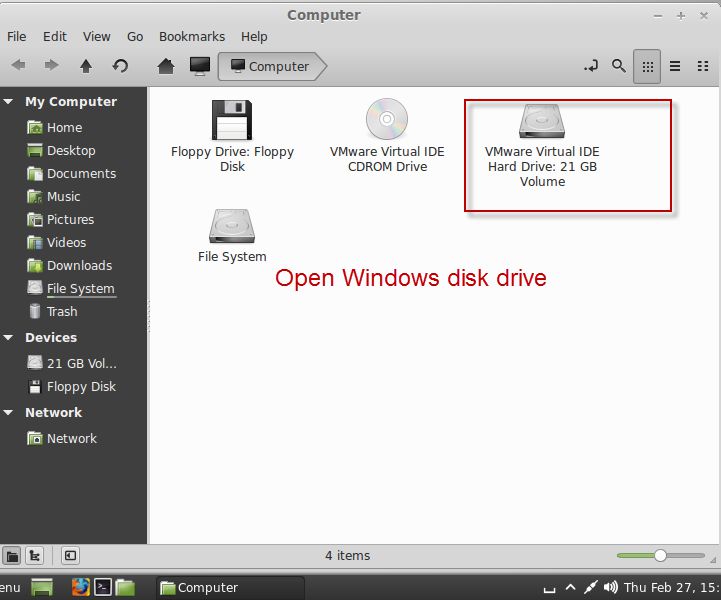 Step 5: Browse to the fold: Windows\system32\config (You can also use the Search box on the top right.) and copy the SAM and SYSTEM files to another storage medium, like a thumb drive.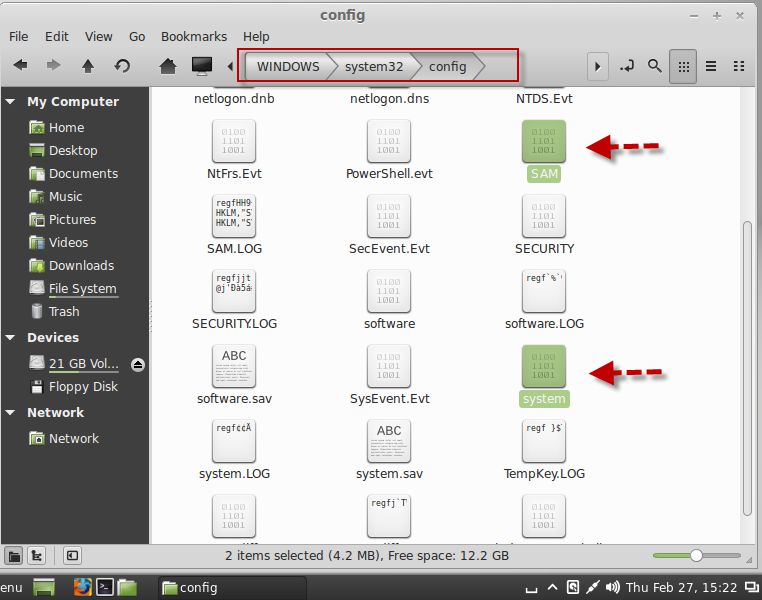 Step 6: Run SAMInside to decrypt these two files. Once the files are cracked, you can get back your forgotten Windows Server 2003 administrator password.
Reset Server 2003 User Password Using System Repair Disk
If you have a system repair CD/DVD, all right! You can remove the forgotten password and recreate a new one as long as you follow the steps below.
Here're the details: (6 steps)
Step 1: Find the repair disc and insert it to the CD/DVD drive.
Step 2: Boot your computer from the CD-ROM.
How to do that? You should press some keyboard shortcut to access the BIOS first. And then switch to the Boot menu and make the CD the first boot storage medium.
Step 3: Click Windows Setup [EMS Enabled] and then the Command Prompt.
Step 4: Use the net user command to reset the Server 2003 password. Example: net use jack doremi456 or net user "jack smith" doremi456
Learn more... Please go see my How to Reset Your Windows User Password With System Repair Disc from here.
Fed up with the multifarious steps? How about forgotten password reset software?
To be frank, there are a mass of ways to reset Windows Server 2003's local and domain login password but some may get disabled in some special cases. Few ways can really applies to all kinds of complicated cases at a very sort of simple level. Windows Password Rescuer is one  of them!
Here's How:
Step 1: To get started, you should download and install ../products/windows-password-rescuer.htmlWindows Password Rescuer(WPR) on another computer that you own access to.
http://www.daossoft.com/downloads/daossoft-windows-password-rescuer-advanced.exe
Step 2: Now that you have WPR installed, run it and click USB drive or CD/DVD on the first windows.
Step 3: Insert your storage medium(CD/DVD/USB) and choose the correct drive in the drop-down list.
Step 4: Click the Begin burning button on the left. (It will take only few minutes to finish this Server 2003 password reset disk. Once the password reset disk is done, you should turn to the locked server)
Step 5: Boot the locked server computer from the password reset disk you made.
Step 6: On the displayed Windows Password Rescuer screen, you need perform 3 steps to get your Windows Server 2003 reset. Firstly, select the right Windows OS (if multiple Windows have been installed on the locked server.) Secondly, choose the user account whose password you forgot and want to reset. Thirdly, click the Reset Password button on the bottom.
Step 7: Next, you should see the reset password ("" or "Hello@2011") in the Password field. You had better take it down before you click Reboot to reload the system.
Step 8: Once you get back to the logon screen, just type in the new password you re-create and press Enter. Well done, you have done the trick! Congratulations!
Password Reset Animation:
That's it. Thanks!