Windows 8 has cancelled the Start menu. Unlike earlier versions, you won't be able to find Calculator from the Start menu. So, how to get calculator on Windows 8? Read on! Below are the details.
Step 1: To get to the calculator in Windows 8, you should hold Windows logo key and mash Q key to bring out the APP Search charm first of all.
Step 2: In the search box, type "calculator" and click or tap the magnifier icon beside the box. (see screenshot below)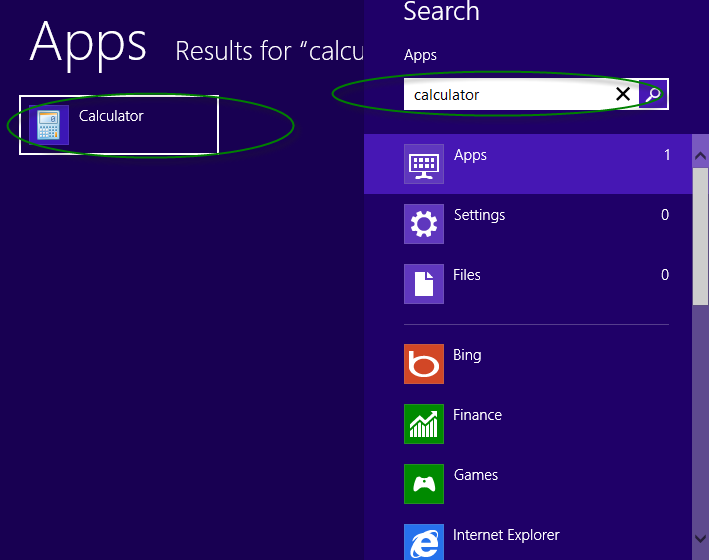 Step 3: Once the calculator app is found, open it. So easy it is! Actually, there is no need to search and open it every time you want to use it. You can create a shortcut for it. Just follow the detailed instructions below:
Find the Calculator app from the results and right click on it. And you'll be able to see a toolbar (purple ribbon).You should select Pin to Start or Pin to taskbar , which will allow you to access the calculator quickly. Next time you would like to open the calculator, you just need to click the corresponding tile on the Start screen or click the icon on the taskbar of the desktop. (The shortcut to desktop is Win + D.) (see screenshot below.)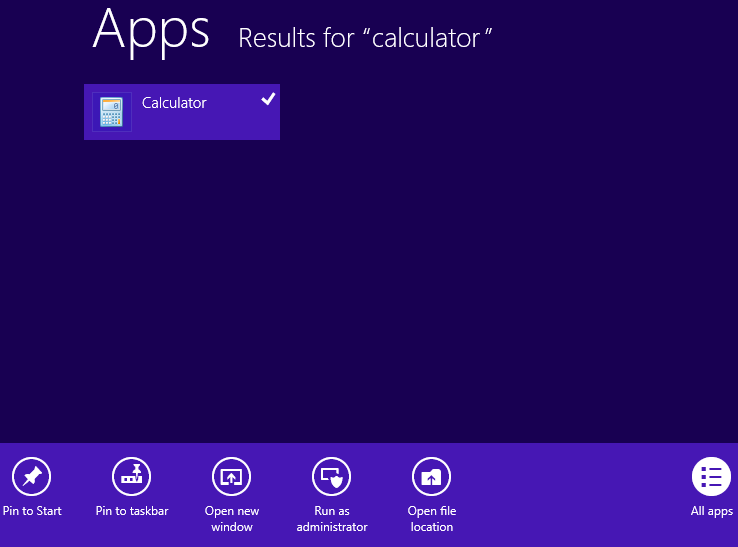 Once the calculator is open, you can see the interface shown as below:
The default is standard calculator, which, in general, only applies to common computing. If you want to use advanced calculators, you can click View and then choose an option from standard, scientific, programmer and statistics. (see screenshot above.)
PS:
If using a Microsoft account, you can get a calculator from Windows Store. Calculator X8, Calculator+ HD, etc are good options. All of them are free of charge.
In addition, you can also consider using an online calculator, such as http://www.online-calculator.com/(powered by Google). You can add it to your bookmarks for convenience.
That's how to find Calculator on Windows 8! Hope this helps you out!
Related Posts: