How to Find Windows 8 Product Key
Help! I lost Windows 8 product key. Where can I find my Windows 8 product key? No worry! You can view your Windows 8 product key as long as you closely follow the tutorial below. Good luck!
Tips: As you might know, Microsoft declared that there would be no longer a product key sticker on the back or top of a Windows 8 pre-installed computer, which means you won't be able to get Windows 8 serial key from the sticker any longer.
Steps of finding Windows 8 product key
First off, download Daossoft Product Key Rescuer from its Download page. Double click to run the program after installing it on your computer.
How to check Windows 8 product key? On the program interface, click the Start recovery on the bottom. As you would see, the Win 8 product key would be displayed in a heartbeat without any delay.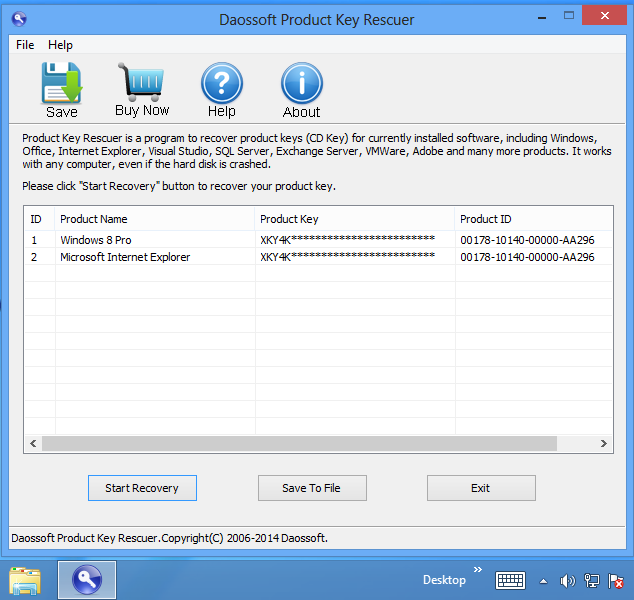 Note: If using a trial version, you would see the only first 5 chars of your product key. So, if you found this program worked for you, please buy a full version.
Write down the product key and keep it in a secret and secured place. Instead, you can also click on the Save to file button so that the Windows 8 activation key will be stored in a text file. BTY, please ensure that the text file has been kept in a secured place, which helps protect your key from being compromised.
Good job! You have retrieved Windows 8 product key successfully.