This is the perfect way and free way to bypass editing limitation on Word. It's very simple-all you need is the free PDF2Word program plus several mouse clicks.
First, open the Word document with editing limitation. (Can't open it? Probably you are facing a open password. Unlock it first.) On this occasion, you will be unable to do any editing or make any other changes.
 -> To get started, save the Word document file whose editing limitation you'd like to bypass as PDF format document: Click on the Office logo in the top-left corner. -> Expand "Save as"
 -> Download and install PDF2Word 3.1 (100 times free use, enough!). Run it right now.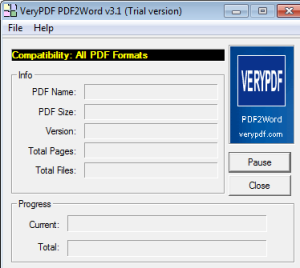 -> Convert to *.doc / *.docx format document from *.pdf format: Click on "File" -> "Open" -> Browse to the pdf document. -> Click "OK" directly,  ignoring others. -> Select a location to save the new *.doc file. All you need to do next is to wait a moment. It will take about/less than 1 minute for the process bar goes to 100% complete.
-> Next time you open the new Word document,  the editing restriction will be cancelled and you will be allowed to edit it, print it.
Related Posts: