How to Remove Password from Locked PDF
Forgot your PDF open password and were locked out of it? No worry! It is really no big deal. Now Let me show you how to remove password from locked PDF since you might be working and want to remove or recover it instantly.
Facing an open password? Here's how to remove it from PDF:(5 steps)
Step 1: Free Download and install PDF Password Rescuer.

Step 2: Run PDF password rescuer. Click the Open icon on the top left. Browse to the (*.pdf) file whose password you would like to remove.
Step 3: Choose an attack mode from the type of attack pull down list. You are highly advised to choose Mask if you still know some character(s); otherwise you can choose Smart or Brute force.
Step 4:  Click on the Start button to get the password decryption started. Maybe you can get your password back soon if your password is quite short and simple. The time it will take depends on the password's length and complexity. So if your password is pretty long, please wait…
Step 5: Once the password is completely cracked, take down your password on the pop-up window shown as below.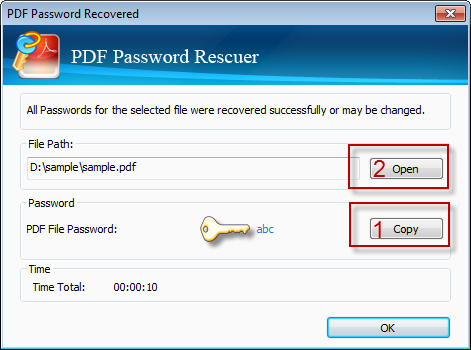 Faced with a modify password (can open but cannot modify it )
You can get a screenshot program like Snagit 10, take a screenshot and save it as a PDF document. Then you will be able to edit it freely. It's so easy!