How to Show/Hide Desktop Icon in Windows
This page covers how to show/hide desktop icon in Windows. If your desktop has no computer icon, network icon, control panel icon, recycle bin icon, or user's files icon, you can restore /show them as long as you follow the tutorial below.
Method 1 show or hide icons on windows 8
First off, press Windows key and W together on the keyboard.
Type "recycle" in the Search charm.
Select the show or hide common icons on the desktop item.
On the desktop icon settings dialog box, check or uncheck the icons that you want to keep or remove and then click OK to apply the changes.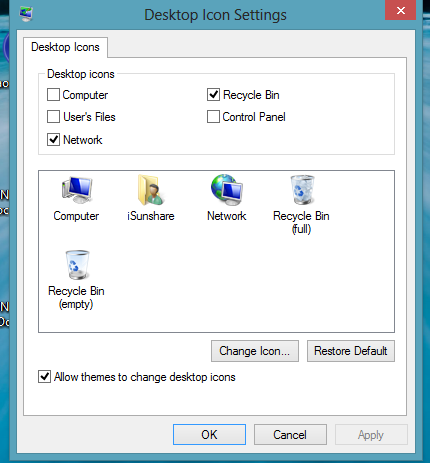 Method 2 change desktop icons for Windows 8
Right-click some empty area on the Windows 8 desktop-> choose Personalize -> open the change desktop icons link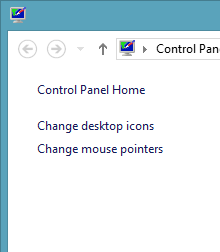 Under desktop icons, uncheck or check the boxes of the desktop icons you want to add or get rid of.
Finally, click OK to make the changes take effect.
Method 3 Windows 7 show desktop icon
Right-click the desktop and choose the Personalize item.
In the left pane, open the change desktop icons link.
Check the icon that you want to put on the desktop or uncheck the icon that you'd like to remove from the desktop.
Then, click OK to apply them.
Method 4 Windows 7-Restore desktop icons which have been removed
On the desktop, click the Start button on the taskbar and input "desktop icon" in the Search box.
Ensure the show or hide common icons on the desktop is selected from the found results.
Choose the desktop icon that you want to drop on the desktop.
Click Apply to view the output effect. If OK, just click OK to quit.