How to Reset the Password on Samsung Laptop or Desktop
At present, Samsung laptop, notebook is mainly divided into four series: R series (mainstream all-around), X series (fashion high-end), Q series (lightweight portable) and P series (business classic). Well, what can I do if I forgot Samsung password on Windows 8/7/Vista/XP/2000/2003/2008? Some Samsung laptop or desktop users used to meet a problem of Samsung password reset. Now I list three ways to help you complete Samsung laptop password recovery without losing any files.
Reset the password with Windows Password Rescuer Personal
This is a fast and easy way to recover your laptop password.
1. Download Windows Password Rescuer Personal and install it on any accessible computer.
2. Run the software and use it to create a recovery disk with CD/DVD or USB flash drive.
3. Insert the recovery disk to your Samsung laptop or desktop and set the laptop to boot from CD/DVD or boot from USB Flash Drive.
4. When your Samsung laptop rebooting, Windows Password Rescuer will start automatically. Now just click your user name and click Reset Password, after rebooting you can login your Samsung laptop without password.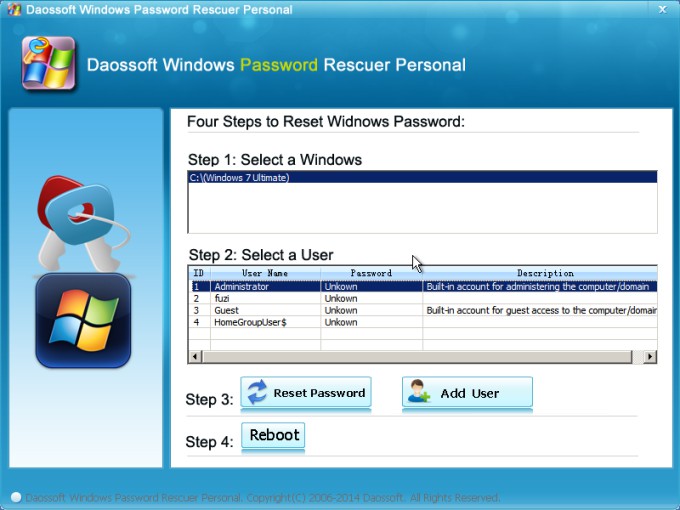 Reset Samsung laptop password with another user account with admin privileges
Some people would said that they don't need to find method if they have an administrator account. That's all right, please go on reading. I will tell you how to create a new administrator without logon Windows.
Step 1. Just follow the steps mentioned above to create a recovery disk and boot from it.
Step 2. After Windows Password Rescuer Personal running, click Add User button, then type in a user name and password, click OK.
Step 3. After rebooting you can access your computer with this new user and password. So that you can complete password reset with this account.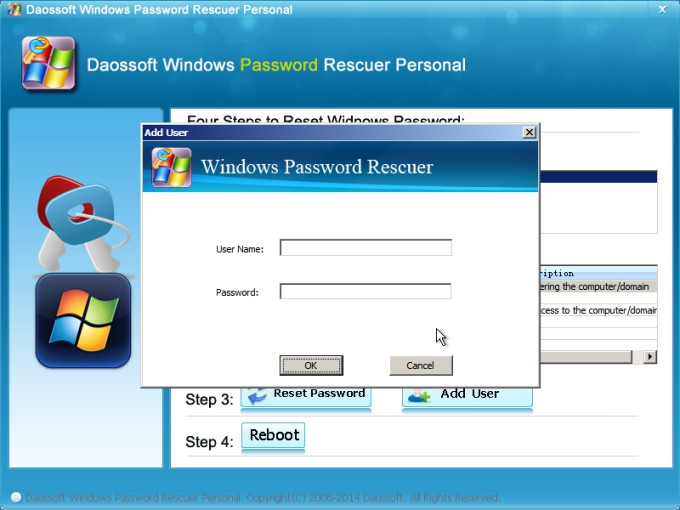 Recover login password with free recovery tool when you forgot the Samsung password
When you forgot your Samsung laptop password on Windows 8/7/Vista/XP, there is a free software may help you recover it. It is calls Ophcrack.
1. Download the right version ISO image and burn it to a writable CD/DVD.
2. Insert the newly created CD to your locked Samsung laptop, set it to boot from CD/DVD-ROM.
3. Then Ophcrack will recover password automatically. But note that this open source software cannot work with every computer. If you have trouble in recovering, please end the process. Ask for some help first.