How to Recover Your Office Password If Forgot It
If you find yourself in a situation where you have to open a Office file without the password, there might be two ways for you to choose, recover office password or crack it. Evidently, if you are cracking Office password on files that have not been sent to you or you have no access to,then you are infringing on someone else's privacy. This is illegal and is a form of theft. If you just want to access an Office file that someone stupidly forgot to unlock before sending you, or your own files without breaking the Office password, you can read the following guide and learn how to recover your forgotten office password step by step.
1. Free Try Daossoft Office Password Recovery Software
Download Daossoft Office Password Rescuer trial version below and install it.

2. Select and Open the Desired File
Press the "Open" button to select a password-lost MS Office file.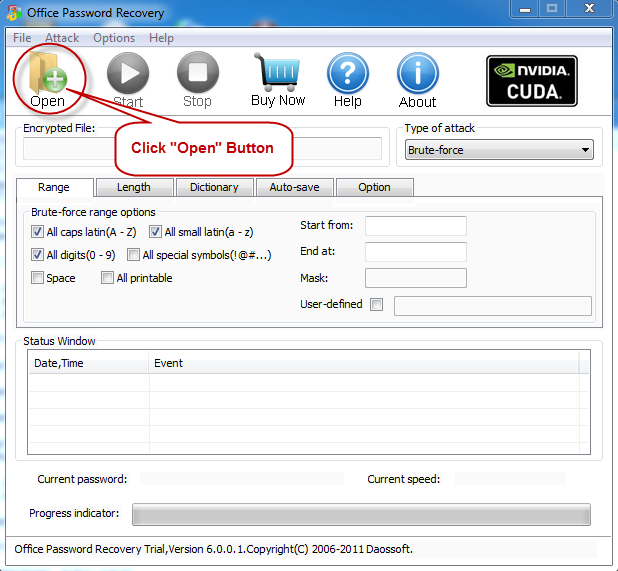 In the Open File Dialog, select a password-lost MS Office file and click "Open" button.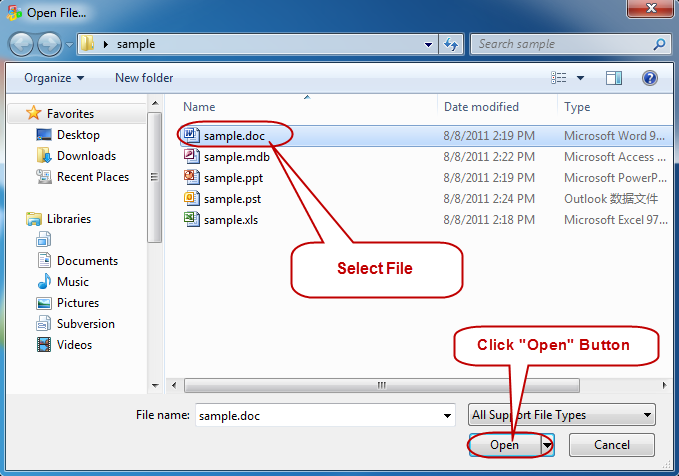 3.Choose the Optimized Attack Mode to Recover
There are four attack types in our software to help you recover your password. They are Brute-force, Mask, Dictionary and Smart.
What are the differences:
Smart : It allows you to start the recovery without any manual settings.Just choose the "Smart" on the tabbar and then click the "Start" button to begin the recovery.
Mask : It needs a mask to help you recover the password.A mask is some characters of your password you remember.The program will regard the given mask as a character to accelerate the process of decryption.
Dictionary :Before you use the Dictionary attack type, a dictionary should be made though a dictionary generator,which can guide you to make an effective dictionary according to your request.
Brute-force :This attack type allows you to open the "Range" tabbar and set the "Brute-force range option" as needed before you click the "Start" button to start the recovery.
Some suggestions for you are as follows:
In case that some characters in your password are still clear in your mind, then choose Mask mode
If not, choose "Smart" firstly. The rest two one are up to you.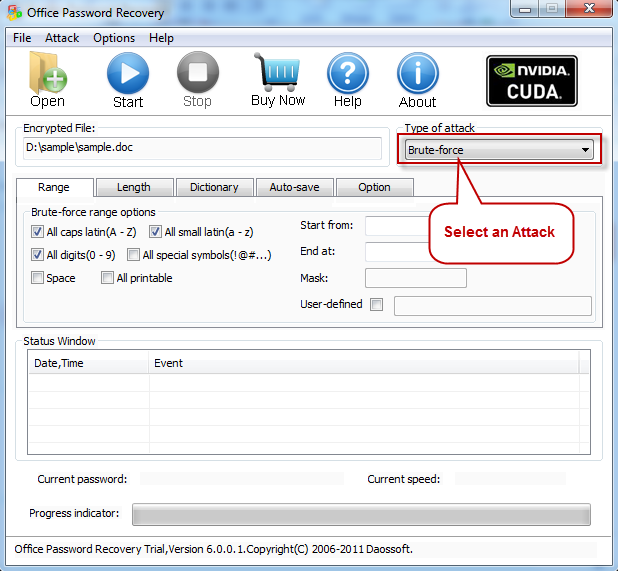 4. Office Password Recovery Settings
Option 1: In these two attack types, including both Brute-force and Mask , you are supposed to tick the "Brute-force range options" before you start the recovery ,and the program will try all possible combinations in the specified range you set.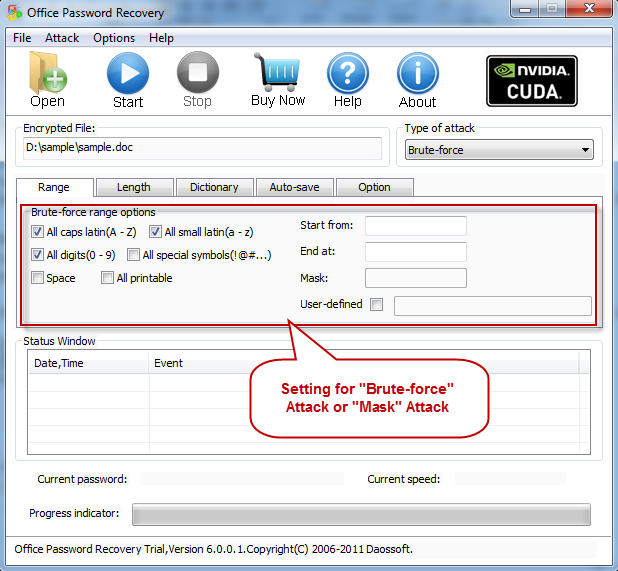 Password "Length" Settings:
Though you have lost your password, the password length might be sure of. If not, don't worry.You can set the password length range on the "length" tab instead.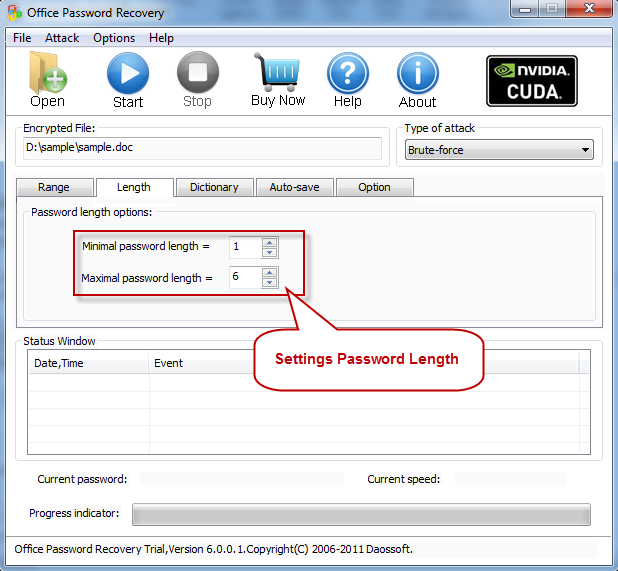 Option 2: If you remember some charaters of your previous password, please make the charaters a mask,which is really helpful to the password recovery with Mask attack.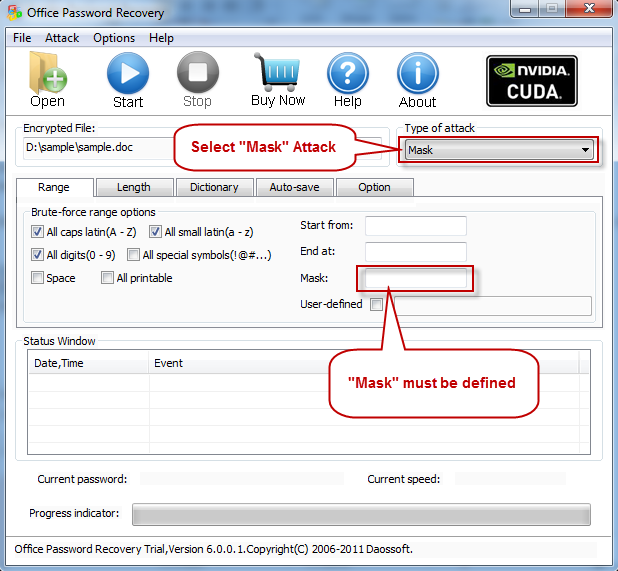 Option 3: If you choose Dictionary attack, click "Dictionary" on the tabbar.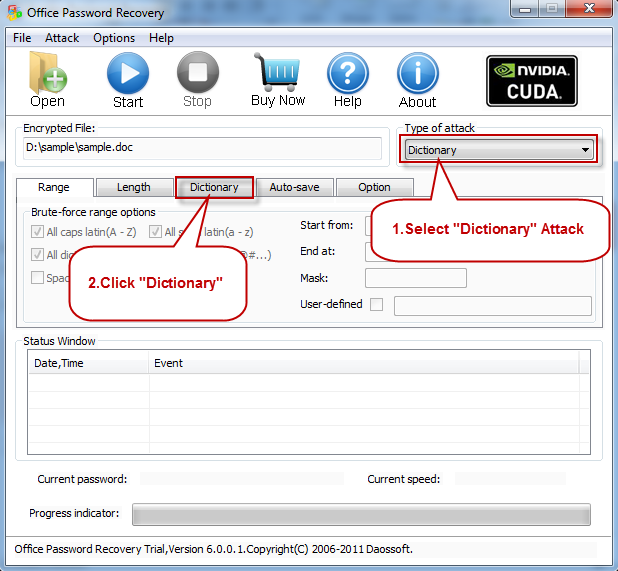 "Dictionary" Settings:
Firstly browse and select the dictionary file(*.dic or *.txt),and then choose an option "Convert to OEM encoding","Try all possible upper/lower case combinations" or "Smart mutations" according to your request.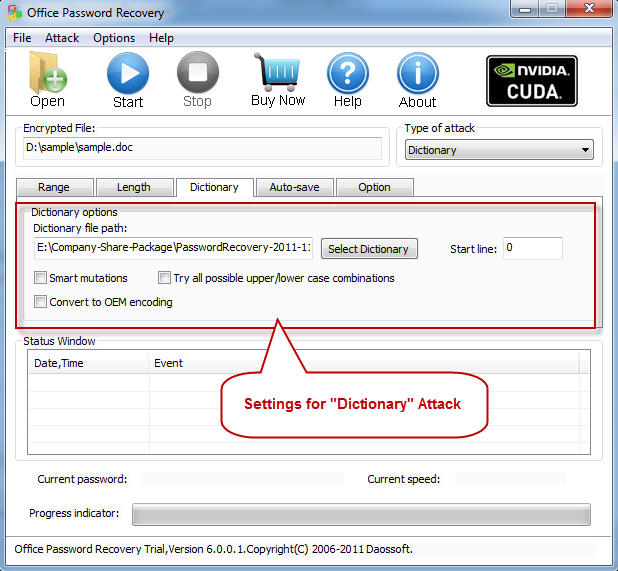 5. Start to Recover your Office Password
Left click "Start" button to start to recover your password, soon you will get your lost Office password.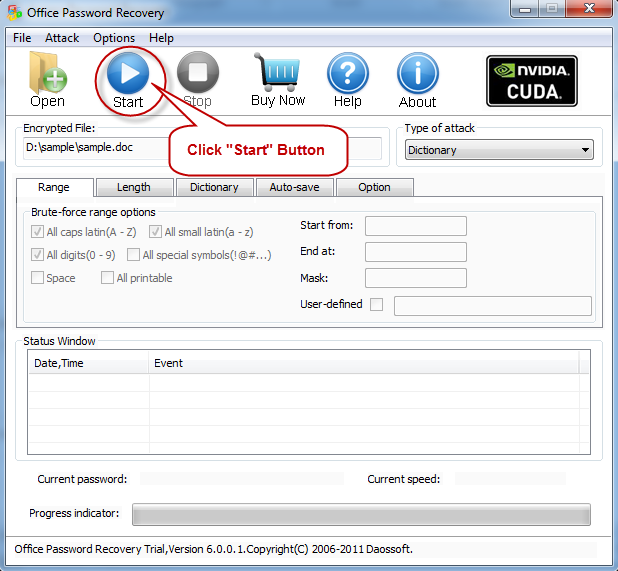 6. Get your Office Password Recovered
When the recover is finished ,the program will bring you the password via a pop-up dialog box. Click "Copy" button to get it.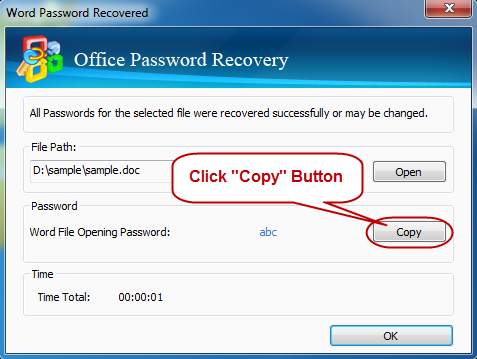 Warm Tips: If you meet a electricity cut-off, don't worry .It doesn't matter. The programe will auto-save the project every 5 mins and you can go on recovering the password when the program is rerun next time.