How to Use Windows 7 Password Rescuer
This article is going to guide you to have a try on Windows 7 Password Rescuer, which is so easy-to-use that you can make it at a time. Would you please follow the instruction below? If any question, Daossoft is at your service, contact us anytime.
Part 1: Burn a password reset disk by yourself
Preparation: Get another computer you have access to in order to burn a password reset disk.
1. Select a storage medium for burning; a USB flash drive, a CD or a DVD is OK.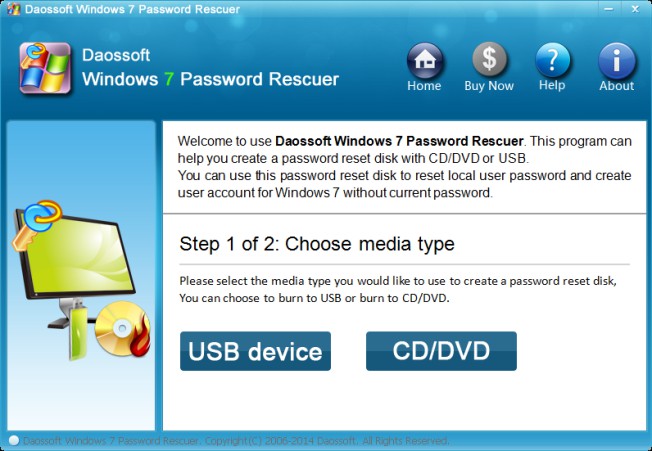 2. Choose the correct drive name for the inserted storage medium and then click Begin burning button. Take USB flash drive as example. (see screenshot below)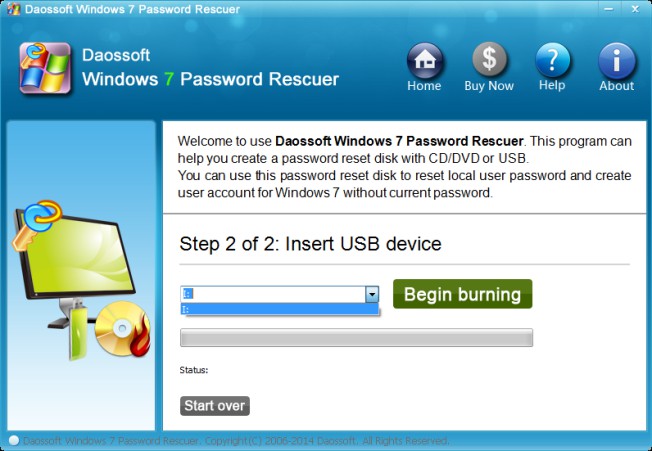 3. Agree to format the USB flash drive by choosing Yes after you make sure that the data inside has been backed up.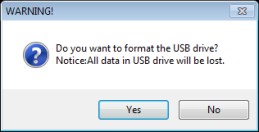 The burning is proceeding. Wait a moment, please.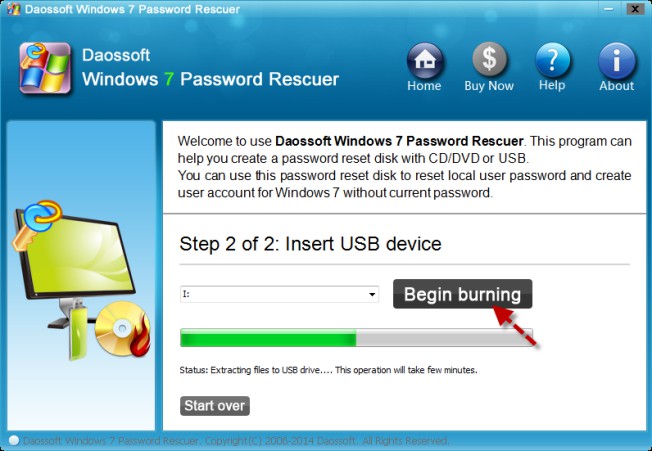 4. Once the burn is done, the program will pop up a window, telling you "Burning Successfully." Click OK and then quit by closing the main window.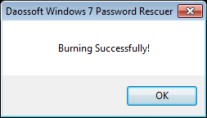 Part 2: Recover the password with the password reset disk you made.
1. Insert the password reset disk to the locked PC.
2. Power on or restart to BIOS and change the boot order.
3. Boot the computer from Daossoft password reset disk. Have no idea?
See how to boot a PC from CD/DVD
See how to boot a PC from USB flash disk
5. On the main interface, choose the right Windows you want to reset, for someone may have more than one OS on his PC. Afterwards, choose the user account you want and Reset Password.
6. Agree to clear away the password by clicking Yes button.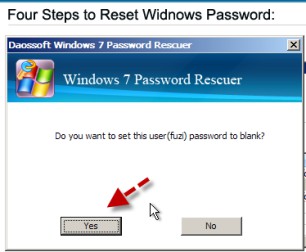 7. Restart the computer by clicking Reboot button and then Yes button. (see screenshot below).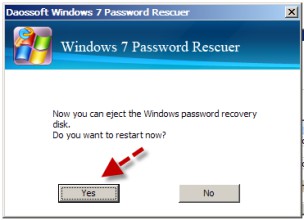 In a moment, remove the password reset disk and the BIOS will automatically detect and load the local disk drive. Now, you can log back on to the Windows without any password.
Thanks for using our softwares.
Get Windows 7 Password Rescuer Now