In this page, I want to share something about Windows 8 live tile, such as what's live tile, what it can do for you and how to turn live tile off/on. In my opinion, unlike the missing Start Menu on Windows 8, this novel feature seems quite good.
What's a live tile?
A live tile is a dynamic tile telling you the newest information in time, such as the Weather tile, Finance tile, Sports tile and so forth. It's just like a small screen displaying and refreshing the newest information about a certain topic automatically.
What does turn live tile off mean?
If you turn off live tile, you won't get any up-to-date information just on the tile interface.  So, you are highly recommended to turn it on, which makes it far easier to get the latest information that you are interested in. In my case, I'm extremely absorbed in finance news, stock, fund, etc. Thanks to Windows 8 Live Tile, I now don't have to search the news by myself. I just get it from the live tiles. From this perspective, it 's kind of like Really Simple Syndication feed. That's why I support this new feature of Windows 8 and always keep it enabled.
How to turn live tile off/on?
Next, I will show you how to turn live tiles on/off. To be clear, not all apps have the live tile feature. Only the tiles such as Weather, Bing, Finance, Sports and News do. And they are all live by default on Windows 8.
Take Sports tile as example. If you want to turn it off, just right click on it and then choose the turn live tile off option on the shown app bar (see screenshot below).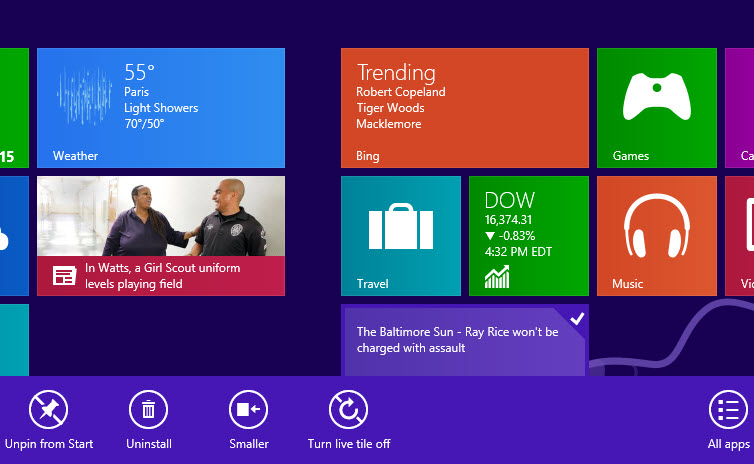 If you accept this really not bad feature and want to turn it on, similarly, you can right click on the tile you want and click or tap on Turn live tile on instead.
This is really not hard at all. You can experience the live tile feature or turn on/off live tile with only few clicks.
Related Posts: